Hi everyone !
It's May ... already. Time for Mother's Day, Graduations, weddings, gardens ... all kinds of things !! Lots to cover in the next few weeks.
Kit of the Week
: Mother's Day /Birthday Cards. This kit will make 3 cards ... everything is precut, hand stamped, and ready to assemble. There are reversible and alternate tags so the cards can be either for Mom or for a birthday. $5 per kit.
Next week will be graduation cards ... I won't have as many kits so let me know quickly if you want any saved.
PAPER
: Beautiful floral paper ... only 75 cents per sheet !! Also available are tags and other embellishments. Limited Quantities.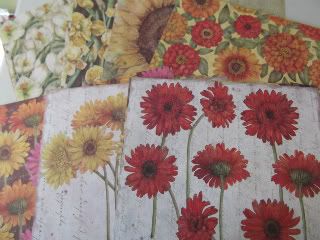 There are also lots of stamps and new Spellbinders Dies.
Lots of 7 Gypsies new stuff ...paper, rub ons, tags, book covers, collage tissue, stickers and loads of interesting embellishments.
I am now selling the 7 Gypsies and Tim Holtz paper & tissue tapes BY THE ROLL. And I have a bowl of crinkled ribbon that I dyed, cut to length ( 1 yard pieces) ... 75 cents each ... just pull out the ones you want !!
BEADS
: More charms & bead being unpacked as I type !!! And lots of beautiful semi-precious.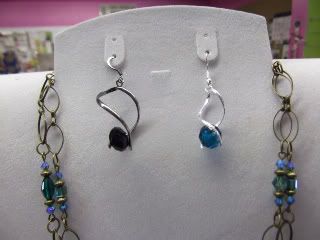 Here are some new earrings I have in stock ... just choose a bead, squeeze the prongs through the hole, add an ear hook , and ...voila ! A cute pair of spiral earrings !!
Here's a little peek at our Make'n'Takes last Saturday. I'll try again in another month with another workshop !!