So much ... let's start !!
KIT OF THE WEEK :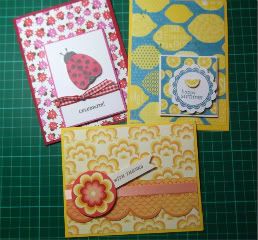 This week's kit is all summer - bright yellows, hot pinks, ladybugs, lemons, and flowers. There is a "Happy Summer" card, a "Celebrate" card, and a "With Thanks" card ... of course, you know, you can make them whatever you want !! They are just bright & cheerful !! The paper used is Salt Spray from Cosmo Cricket and Sweet Summer Time by Little Yellow Bicycle. I have both lines available this week. As usual, the card kits contain the supplies for all 3 cards and cost $5. Leave a message here or on Facebook if you want any saved. Last week's kit was popular ... sold out by the end of the first day !!
PAPER:
*
new 6x6 paper pads ... more than 50 !!! They include : Jillibean Soup - Blossom Soup & Watermelon Gazpacho ~ Fancy Pants - It's the Little Things, To the Moon, Beach Babe, Beach Bum, Baby Mine ~ Basic Grey - Hello Luscious, Sweet threads ~ Crate paper - Toy Box Collection, Emma's Shoppe, Portrait Collection, Neighbourhood Collection ~ Echo Park - Splash ~ Pink Paislee - Hometown Summer ~ Bo Bunny - Zoology Collection, Barefoot & Bliss ~ Cosmo Cricket - Salt Air, Upcycle, Odds'n'Ends, Circa 1934, Social Club ~ lily bee Designs - Happily Lost ~ Sassafras Lass - Broadcast ... phew ! That was a lot !!
*
I was able to get more of the Graphic 45 Wicked paper for those looking for it.
* COPIC MARKERS ... yes, I have them !! I ordered Copic Ciao because they are a great marker at a better price. So they will be $4.99 each ... but some of the markers were substituted with the more expensive Sketch markers ... for a limited time they will ALL be $4.99. Start your collection today !!!
*
Stamps - Maya Road, Hampton Art, Our Craft Lounge. One of the stamps from OCL is called "Granny's Support Team" and, you guessed it, it's all about underwear !! One of the quotes is "Don't forget to squish 'em" ... and don't !!
Just a reminder that the Nova Scotia Breast Screening Van will be here at the hospital the end of August and early September. Book your mammogram soon !!
*
12x12 papers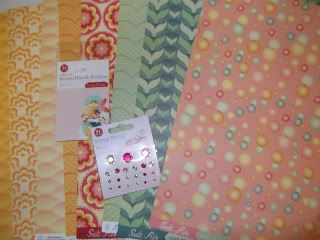 Cosmo Cricket "Salt Air" ... pretty colours, cute accessories ( Bling, Buttons, Butterflies & Doilies)
Little Yellow Bicycle "Sweet Summer Time" ... bright blues, yellows, reds ... watermelon, lemons, lemonade stands.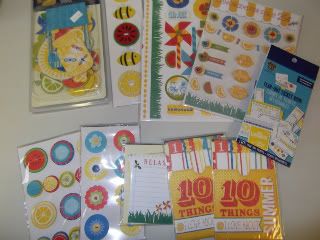 And look at all the fun stuff that goes with it ... chipboard shapes, stickers, felt ribbon sliders, spinners, canvas shapes, 10 Things Pockets, Flower Button Dots, ticket book, journalling cards, pop up stickers ... so fun !!
October Afternoon "Campfire" ... listen to a few of the paper names ... "Sleeping Bag", "Tent Trailer", "Stargazing", "Skipping Rocks", "Toasted Marshmallows" ... you just know it's going to be fun !! The images are great ... plaids, stars, pine trees, bears, fox, lodge check-in sheets, maps ... all part of the camping adventure !!! Great stickers too !!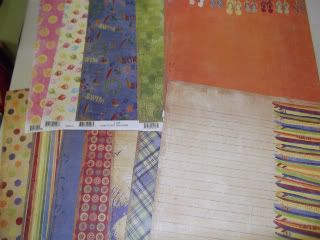 Fancy Pants - "Beach Bum" and "Beach Babe" ... nice masculine paper - reds, blues, weathered colours ... flip flops, surf boards, waves, fish, Hawaiian shirts ... great vacation paper !!
*
Bo Bunny - these albums match their Zoology and Barefoot & Bliss lines. They are shaped printed chipboard ... various animals for the first one and flip flops and other summer items for the second. Fun albums, especially for kids !! "Mini Edgy Albums".
*
more Cuttlebug & Nestabilities
BEADS
: I am just about to crack open a big box ... I will have the earring backs, lots of new jump rings in new sizes & colours, cellphone straps, more bookmarks, Econoflex wire, Dragon Blood Jasper semi precious stones, ... and more !!
* Just a note ... I have been having trouble getting Big Eye Needles ... I asked about them and the problem is that they come from Japan and are not available because of all the trouble there. My supplier mentioned there are several other products as well. Never even thought of that !!
Pink Whimsy Album Kits
... I tried ... I really did !! I worked on them yesterday but we kept losing our power and then my printer wouldn't work. I worked until 10:30 last night and finally realized that I wasn't going to be able to finish them ... I'm close !! They will definitely be ready next week. ..maybe sooner. I have had a lot of people interested ... remind me if you want a kit (or more) saved. $19.95 per kit ... and I only have enough for 13.
And ... 3 weeks from today is the Card Class !! I am hoping to have a good number registered ... it would certainly make me keen to do more !! Remember you must pre- register.
Thanks & have a super week ! Hope to see you !!!