*SWOON* ... That's what I did when I saw the new Graphic 45 papers ...
oh my
... I thought they looked pretty great when I pre-ordered them but to see them in person is a whole other story !! They are amazing !! My mind is racing with projects ... I hope I can get some done before the paper sells out !! Actually it is so nice that I have already re-ordered most of it !! The pictures I took don't do it justice ... you should come see it in person. Also check out Graphic 45s blog ...
www.g45papers.typepad.com
for some breathtaking samples !
*( I just had someone stop in to ask a question ... her eyes were immediately drawn to the paper ... she loved it ... believe me, you will too !!)
The first line is ABC PRIMER ...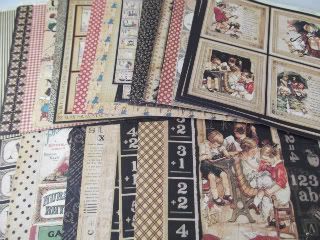 I am planning on making a black paper bag album kit ... probably in a few weeks.
Then there is Christmas Emporium ... wow. The papers are beautiful - thick paper, gorgeous rich colours, great designs ... classic.
My mind is spinning with Christmas project ideas ... !
They also have these really cute little kraft boxes with accordion fold albums inside. The boxes have a magnetic clasp and are all ready for altering ! The other album they have comes in a little film canister. Super cute ! I have a few of the albums but I have quite a few pre-ordered elsewhere. They should be here soon.
This is a short post ... I have been out straight getting ready for this week's card class and working on some renovations. I have just placed an order for a bunch of shelving so ... bear with me ... organization is on it's way !!! Things will be changing in the next few weeks ... I am excited about the changes !
In order to get some samples done up, renovations done, beads organized and sampled, orders placed, and kits assembled ...I am taking a few weeks off from the Kit of The Week . I have a few left from last week if anyone missed them. The Kit of the Week will be back in September ... and I am thinking Christmas !!!
So keep stopping in ... lots of new things ... and keep watching the blog for news on kits, classes, and just plan old ideas !!