Hi!
I have been moving, lugging, dumpster-ing, unpacking ... all week & weekend ... and I am getting there !! You won't see much change this week ... it's all "behind the scenes" but hopefully next week there will be an expanded room and a new wall display of Cuttlebug & Spellbinders. "All in the fullness of time" ... as an old friend used to say !! Anyway, I am excited to be
this close
to change happening !
So ... I haven't had much time for samples or putting out new product but I will see what I can do today. Fingers crossed !! But I do have this for you ...
KIT OF THE WEEK !
Christmas Cards II ... more cards using that wonderful Graphic 45 paper (I can't get away from it !!). So the usual ... supplies for 3 cards for $5. Last week I sold out in a day so let me know if you want a kit saved. Check out the cute little vintage style jingle bells !!
PAPER :
* Stamps from Hampton House to match the Graphic 45 paper ... both Christmas Emporium & ABC Primer.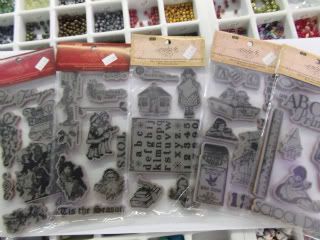 These stamp sets are a great deal ... Only $9.99 a set and each package contains between 6 and 8 stamps ... see, a deal !! The designs are really cute and offer lots of opportunity for colouring or not. They can be combined or used singly. Really great sets !!
Here are a few cards I made with the Christmas sets ...
* Spellbinders ... Nestabilities (butterfly circles, picot edge circles, star circles, tear drop circles, flower pots, postage stamp)... Shapeabilities (nested butterflies, spiral blossom 1 and 2, create a flake, holiday tags, daisy flower topper, holly motifs & accents, ironworks motifs & accents, lace doily motifs & accents) ... Edgeabilities (petal, ric rac, scallop, triple scallop) ... Labels 22 & 23 ... Boxes (square bracket). There is also a big box of embossing plates and more dies on its way in the next few days !! I don't have room to put them out until next week but you are welcome to rummage in the box !!
* Stampavie Christmas Stamps ... super cute !! (Tina Wenke & Penny Johnson)
* more Hallowe'en paper being put out today
* and possibly more Christmas paper ... hopefully !!
BEADS :
* Still unpacking the boxes from last week. As the week goes on I should have more weighed & bagged up ... there are lots of new metal beads, some new clasps, more cellphone charms, and more wire. Did you see the great colours of aluminum wire that I put out last week ?! Lots of possibilities there.
* I came upon a stash of odds'n'ends when I was rearranging shelves ... I will do up some bargain bags this week. Also, there seems to be a bunch of wooden beads in the box ... I'll let you know what I dig out !!
I have a stack of CAPS Cookbooks for sale ... they are a great little recipe books of submitted ( tried & true) recipes and they are selling for only $5 !!! All proceeds go to the Companion Animal Protection Society. I am adding them to Christmas gifts this year !! Pick yours up here.
Hope to see you all this week !!