Hi everybody !!
Well my groove is back
(yay !!)
& I am ready for a wonderful fall season !! There are going to be changes here ... starting this week ... more new product, better organization, different displays, and hopefully lots of new samples !! Some of my new shelving has arrived and I have started the L-O-N-G process of rearranging the store ... (chanting to myself "A voyage of 1000 miles starts with a single step" - I think it translates roughly to " A complete renovation starts with moving one shelf ..." ). So many boxes of great things have arrived ... I am working like crazy to get it all out for you !! So let's get started !!!
KIT OF THE WEEK
: Yes ! It's
back ! And this time it is Christmas cards.
The cards are made with Graphic 45's Christmas Emporium paper ... the cards are really simple because I couldn't bring myself to cover up much of the paper - it's too nice !! One of the cards is absolutely plain - just the paper on the front, so I decorated the inside with a liner & trim.
You'll get all that in your kit. The images in the kits vary but they are all wonderful ! Kit makes 3 cards and includes all the supplies for $5.
PAPER
:
While I was using the paper for the cards, I decided to use it to make one of the Graphic 45 Kraftboard Alterable Art Boxes ... this was a really fun project and actually quite simple ... just measure a flap, cut the paper, adhere, and move on to the next part. I am already planning my next one - the smaller square version - using ABC Primer also from Graphic 45. Then something Hallowe'en ... hmmm ...
Here's the outside of the box ...
... open the flap ...
... and inside is a mini accordian album ...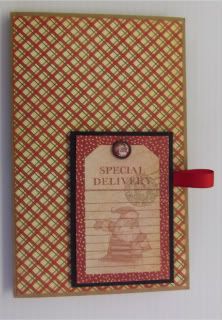 ... take the album out ...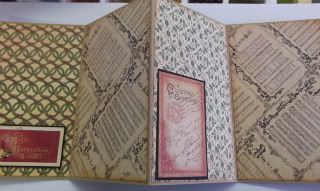 ... lots of room for photos & journalling . But what's that behind the album ??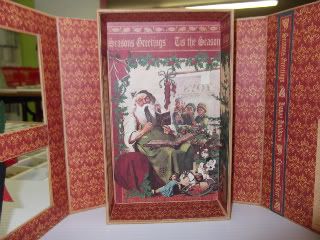 Why, Santa of course !!
Oh ! And I was able to get more of the Graphic 45 Christmas Emporium paper as well as their ABC Primer. It sold out the first time in 2 days !! Don't wait too long !!
* also new ...
Bo Bunny - Father Christmas, Blitzen, and etcetera
Teresa Collins - Christmas Home
Authentique - Wonder
Basic Grey - Nordic Holiday
... and I am still unpacking !!
BEADS
:
* Beautiful new aluminum wire in 16 fun colours. 30' of 18 gauge for $1.99.
* New hemp - also in great colours - 10lb, 20lb, all the way up to 48lb. Available in cones as well as in mini tri-packs and carded assortments. Also some amazing variegated hemp.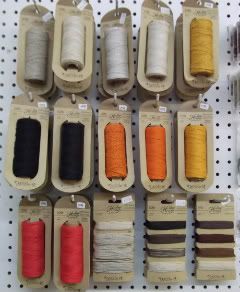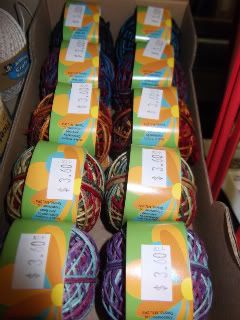 * new tools ... collapsible eye needles, beeswax, needle cases, threaders ... all at great prices. (Think "stocking stuffers" !!)
* Nymo Thread in various sizes and in big & small spools.
* Lots more beautiful Delica beads.
* Swarovski Astral Pink crystals ... a gorgeous pinky orange ... or is it orangey pink ...??
* Swarovski pearls in packages in sizes from 3mm to 10mm.
* Sterling Silver findings ... lobster claws, long shepherd hooks, ballhead pins, bails in lots of sizes and styles, jumprings.
* Jingle bells ... silver, gold, vintage.
* a whole other box yet to be unpacked !!!
RIBBON
:
oodles of satin double faced ribbon ... by the yard & by the spool.