Wow ... 2 more weekends before Christmas ! I was shocked to realize that - we had to quickly do some Christmas shopping last Friday night. I somehow thought we had lots of time !!
But you do have 2 more weekends to craft some gifts ... or just craft to give yourself a break from some of the crazy shopping !!
I have lots of new things this week and some suggestions for gifts and stocking stuffers. Or things YOU could ask Santa for !!
And speaking of crafting ... are you following Tim Holtz's 12 Tags of Christmas ? I have been but I am too busy with projects for the store to make them now. So I have decided to wait until the New Year and make the whole series. I am excited about it !! That will also give me the chance to see all the supplies that are needed and order them all in. I'll start mid January , once I get an order in, and make a few each week ... want to play along with me ?
I am also signed up for a Spellbinder's Sparkly Christmas course (on-line) and a 12 Ornaments of Christmas class (also on-line) ... I probably won't get to those projects until after the 25th but that's okay. I'll enjoy them more then !! I'll share what I make here on the blog so you too can get some inspiration !!
So ... without further ado ... let's see what's new !! ( poetic !!)
KIT OF THE WEEK !!
This week's kit uses Pink Paislee's
Snow Day
paper ... cute & fun ! Bright colours are perfect for the happy snowmen & mittens ! You get all the supplies for 3 cards for $5.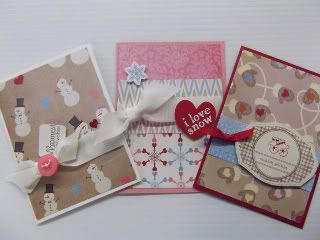 PAPER
:
* Stamps - nice greetings for inside Christmas cards, more of the popular Inkadinkado stamps - snowglobe, tag set, etc ..., cottage scene, vintage style Christmas/winter stamps, birds, more of the little square stamps used in the ornament kits ( and I have a few of those left !!), "Cattus Librum" - reading cat !!, gnomes, and more.
* Birthday and Sympathy stamp assortments for inside & outside cards
* Basic Grey 6x6 Picadilly paper pads
* K&Co "Glad Tidings" embellishments ... these are GORGEOUS !! They are layered and are just fabulous. They would be perfect on cards, tags, or pages. wow.
* Stufftainers ... clear large containers to store all your "stuff" in ... great Christmas gifts.
* GLITTER KITS from C Thru Art... these are soooo beautiful. The package contains 3 beautiful little bottles filled with matching glitters. Each bottle is tagged and decorated and they are packed in a sweet little box ... this would be a great stocking stuffer or little gift. They are exquisite !!
* restocked with Distress Ink pads, more 8.5x11 cardstock, 12x12 cardstock, Stazon inkpads
* pearlized & metalized 8.5x1 paper, glitter paper ... oh so glittery !
* C Thru Art ATC sized canvas paper, vintage floral background papers, watercolour paper, and oatmeal paper
* FAUX SNOW !!! Sooo pretty !!!
* I thought that I had received all the Christmas paper I had ordered but there is still one more line to come ... October Afternoon's "Holiday Style" ... that's the last one !! So be sure to get your Christmas scrapping papers before too long ... the piles are getting down !!
BEADS
:
I have a lot of new things in "bead World" ... charms, findings, focal pieces, toggles, .... I spent the last 2 days cleaning the trays out & refilling them ... they look pretty good !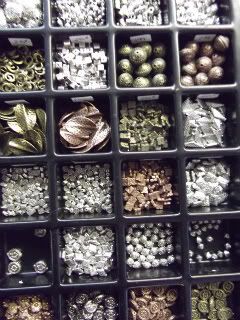 * Here are just a few of the new items ...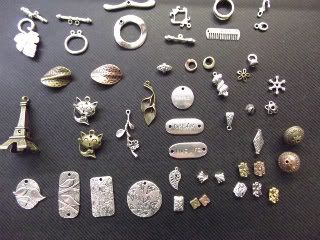 Check out these cats !! MEOW !!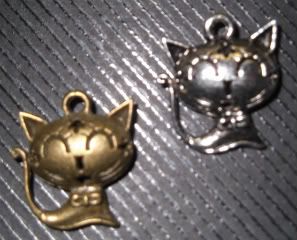 Or how about a big Eiffel Tower charm ? Imagine this at the end of a chinky bead/chain necklace ... yum !!
* Chain Link bracelets ... all assembled with loops for adding charms and dangles ... a fun quick gift you could make or just give as a project ! Only $2.99 each and they come in 5 different colours.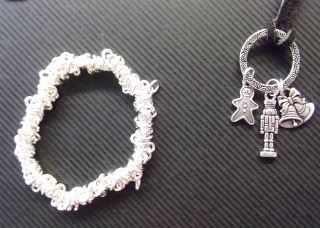 That's the bracelet ... imagine how easy it would be to add charms to the links !! Or make a necklace like the one on the right ... a large ring with charms attached with a nice suede cord. Easy peasy !!
* restocked : Beadalon
crimp
tubes
in various sizes, stringing wire, chain extenders, Beadalon earwire hoops, crimp covers in 3mm and 4mm, wire guardians, sterling silver clasps and earwires
* gold filled ear wires for those who have metal sensitivity
* STRANDS & STRANDS of beautiful fire polished beads ... many are only $1.99 strand !! The suggested retail price is $3.99 but I am putting them on for a great price so you can do your Christmas projects or fill stockings !!
* TOOLS - all price points, bead design boards, mandrels in plastic & aluminum, cleaning cloths, multi shaped mandrels (4 pk), jars, jars in a box, aluminum cases with jars ... all great gifts !
* cones, magnetic fasteners, toggles, caps
* charms : more Christmas charms as well as guitars, motorcycles, dogs, cats, hummingbirds, teddy bears, ... and more !!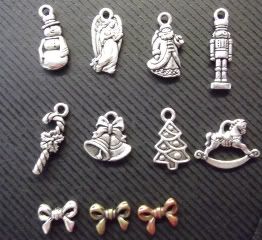 Tierra Cast charms ... these charms are wonderful quality and are doublesided. $1 each. There is also an adorable little gingerbreadman who is currently sold out but his replacements will be arriving at the end of the week !!
More really cute charms .. these range from 50 cents to $1. Check out the "Let it Snow" ... how cute is that ? Or how about the dancing snowman ? Or the little tiny "JOY" ? Cute cute cute !!
**
SPECIAL
** bags of decorative earwires ... regular price 30 cents each ... buy a bag of 20 for $3 ... only 15 cents each !! (wings, flowers, ladybugs, etc...) They have been discontinued so I have about 30 bags ... and then they will be gone forever !!
GIFT IDEA
... why not make a bookmark with a charm that speaks of the recipients interests, hobbies, or personality ? I have everything from fisherman to guitars to measuring spoons. Something for everyone !!
Or what about the cases of little organizer jars ... buy a set and add a few crystals to each jar ... a great starter set for a beader. Or fill them with flatback glue-on crystals ... great gift for paper or fabric artists !
Well ... I better get back to unpacking & putting stuff out ... hope to see you this week !!