Well here it is, the week before Christmas ... take a deep breath. It will all be fine. It will come & it will go and it will all be okay. No one will know that you meant to make 6 kinds of cookies or cute little stocking stuffers. Cut yourself some slack, pour a cup of tea (or a glass of Bailey's), and start dreaming about your craft projects after Christmas....
Here are a few last minute things to consider ...
PAPER
:
Here is a sample of another Inkadinkado stamp set. You get 3 silhouette stamps for $9.99. I love this stamp ...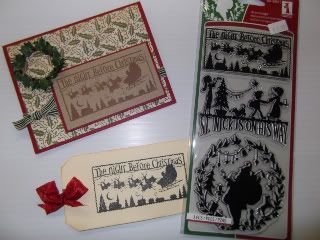 And see that wreath on the card ?
Here's a close up.
This is the garland that Tim Holtz uses on his tags and projects. I have some here at the store. Actually I have 3 different styles. 25' rolls for $5.99. You could make a TON of wreaths with a roll. Just twist a loop, add some red crystals or beads, and TA DA !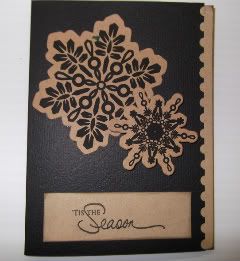 And here is a quick card made with Maya Road Kraft Snowflakes. Make it in mere minutes !! The snowflakes come in black on kraft as well as white on kraft. I am selling them individually as well as in packages.
BEADS
:
Unpacked a whole collection of vintage metal beads studded with crystals & rhinestones.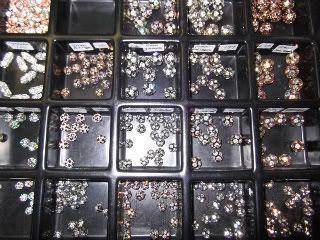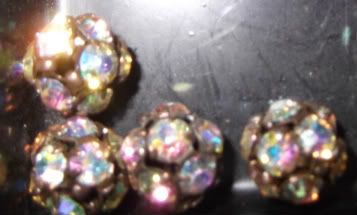 I cannot wait to make something with these !! This afternoon I will be unpacking a selection of semi-precious chips and beads as well as some new crystals. Lots of sparkly new things for gifts !!
Remember, I have
GIFT CERTIFICATES
... perfect gift for crafters as they can pick out whatever they want !!
Here are the holiday hours ... not much of a change ..
Thursday & Friday ... 10-5
Saturday ... 10-12 (closing an hour early on Christmas eve)
Have a good Christmas & I will see you back here next week !!!