Hi everyone !
A quick post this week ... some new paper, a cute ornament, and a ring ... let's go !
PAPER
: This is absolutely the last Christmas paper line that will be arriving this season ... "Holiday Style" by October Afternoon. But it was worth the wait !! So stinkin' cute !!
It is retro, vintage, cute, quirky ... just plain fun !!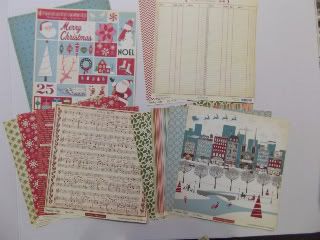 Look at that music paper !! And the fun buildings !!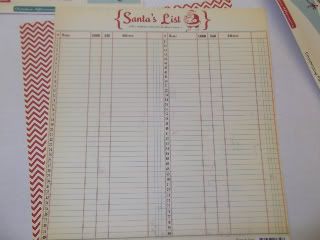 And Santa's list !!
Love the holly ... and the skaters... and the little wreaths ... and ...
Santa !!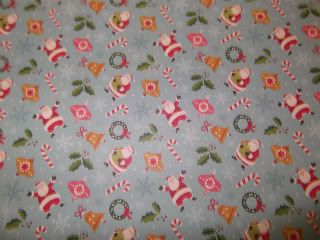 How cute is that ??!!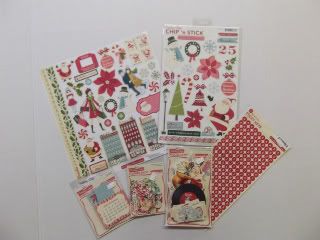 And it comes with some wonderful accessories ...
Shape Stickers ... houses, stamps, candies, all sorts of Christmas icons ... super !!
Chip'n'Stick ... chipboard stickers, again in every cute iconic design you can think of !!
Red & Cream Sticky Keys ... round red letter keys that look like vintage typewriter keys.
Miscellany ... a variety of die cut cards and shapes, buttons, ribbon, and raw chipboard. LOTS of pieces !!
Journal Cards ... 11 journal cards that would make spectacular cards !!
Flower Sack ... "a variety of fun die cut shapes" ... they aren't kidding !! They are adorable !! 30+ pieces.
BEADS
: There is a lot of new stuff ... and more arrived this week !! More feathers, more rings & bracelets, more crystals ... just plain MORE !!!
Here's is a really nice project !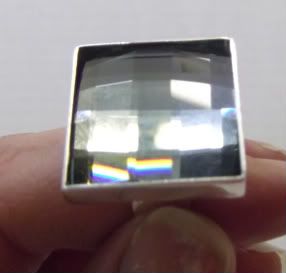 This ring was made with a ring finding (handmade - not by me !!) that comes in several different metals and a Swarovski flatback Chess crystal ... just glue it in !! I also have bracelet findings as well as a variety of crystal colours. Really fabulous ... the photo doesn't do it justice !!
KIT of the Week
:
SORRY
! I didn't get one made this week. But I did make up an ornament and I have all the bits here to make it ... give it a try !! Kits will get back on track after the holidays.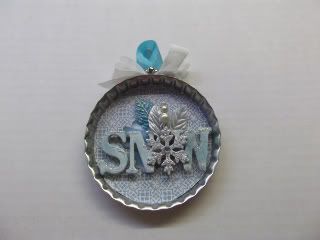 This ornament was made using a Maya Road bottle cap (the largest of three sizes), some Melissa Frances paper, a scrap of other paper, some left over letters that I painted & inked to match, a Maya Road chipboard snowflake that I pimped up with Stickles, and some leaves, bells, and ribbon as well as a crystal. Super easy and cute !!