Hi !
It's the second week of January ... and I am still lagging behind ... *sheesh*. I have had a whopper of a stomach flu, an eye infection, a cold, a sore throat, ... I am waiting for a plague or grasshoppers ... LOL. Anyway, I am feeling much better & just waiting for the last bits to go away. What a start to 2012 !!
BUT ... I did get a kit done for this week and a bunch of new stuff unpacked !! Here goes !
*KIT OF THE WEEK : This week's kit is a little mini album to tuck all your Christmas memories into. It is very simple and can be completed in an afternoon if you want to keep it simple. It folds out of the box and can be attached into the box or kept as a removable album. Assemble, add your photos & journaling, decorate, pop in the box, and tie up Christmas 2011 with a bow. You could do these every year and keep them all on a shelf with the date along the edge of the box. Your kit includes the pre-scored fold up pages, pockets, pre-stamped tags, ribbon & trims, the box with trim, "tie up ribbon" and instructions. All for $5 !!! This would be a cute kit to make & keep or to make as a gift .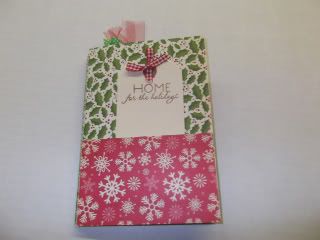 * PAPER :
- My Mind's Eye ... FUNDAY !! ... There are 2 versions of this line. All of it is done on kraft paper though. "Everyday Fun " is done in black, cream, and grey on kraft.I have it in 12x12 paper as well as 6x6 pads.
"Happy Days" is done in brighter colours on kraft. I have it in the 6x6x pads.
Both are excellent !! The graphics include polka dots, numbers, banners, chevrons, scallops and other shapes, tickets, etc... Really great designs - I love this paper. And with it are a ton of great accessories ... 6x6 pads, strands of paper garlands, twine, stickers, tags, etc...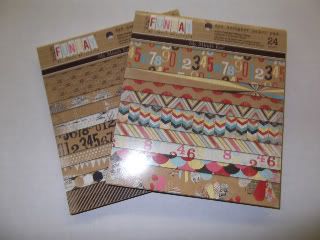 Check it out !!
-Jenni Bowlin Red Black Extension IV ... I really like this paper. It has such a nostalgic feel about it. It would be awesome with black & white photos.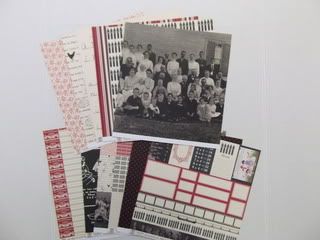 - Jilli Bean Soup ... 2 lines from this company. "Homemade Six Bean Soup" is a sewing/quilting/ friendship themed line. Beautiful colours and graphics. The little journaling cards would be cute on cards.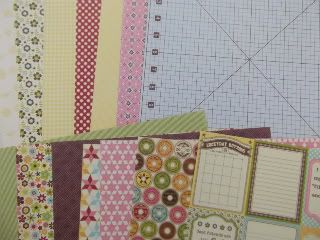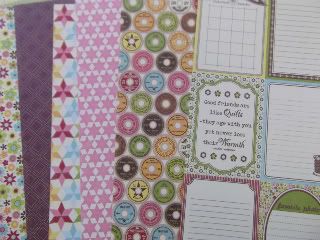 The other line is "Sweet & Sour Soup" and it showcases letters, word, typewriters, all things typographical. Again, great colours & graphics. Fun !!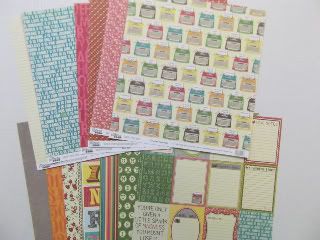 - Fancy Pants "Off to School" ... bold fun colours with great images. It would be great, of course, for a school themed album but it will also work well for almost anything.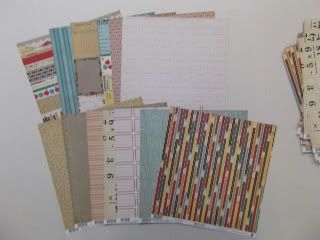 And I love this sheet of calendar pages ... cut apart to use on scrapbook pages or birthday/event cards.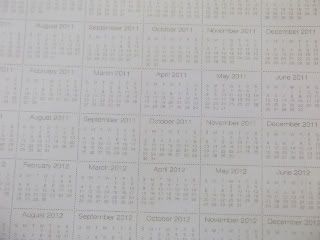 - Imaginisce "Bon Voyage" ... very nice travel themed paper. Great for masculine themed pages & cards. Planes, nautical, travel. This paper is also varnished so you get a nice shine.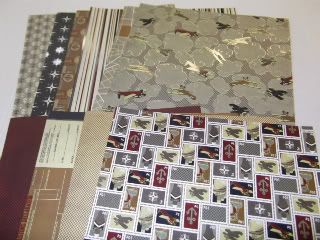 BEADS :
I have unpacked all sorts of things ( things that don't photograph too well !!) .... lots of new findings, new tools, more spacers & metal beads, charms, more pearls from Swarovski, more crystals, .... and I have some big ideas brewing in my head !! I just need to get all this yucky sickness to move on and I'll get on them !! Watch for some fun necklaces soon.
SPECIALS :
- Christmas paper is still 60 cents per sheet ... it will be *poof* gone by the end of the month though so don't wait too long !!
- 40% off packages of Christmas embellishments, rub ons, and stickers.
- 25% off Tim Holtz cases , purses, notebooks, journals and canvases.
- 25% off 6x6 paper pads.
- 25% off Kaiser wooden Christmas items.
- 25% off Christmas Crystal earring kits .... again just until month's end. Then they too will disappear !!
*** Sales are on regular prices & instock items only. Does not apply to lay aways or special orders. ******