It's hard to believe that it is already the middle of January !! Time flies by.
This week I got back on track a bit - thankfully !! So there is a Kit of the Week once again as well as a bracelet project. Pretty darned pleased with myself ... lol.
It has been a sad week though. I am sure that many of you have felt grief for the several tragic deaths in our communities. My goodness, the year has been off to a sad start. As I have been talking to many of you the last few weeks, you have had many sad stories to share - of death , illness, troubles. It has been overwhelming. And it falls at that time of year when many find that the days are a bit gloomy to start with. I think we need to have a little celebration ... I know it won't change the sadness some people are experiencing but it would just put a bit more cheerful spin on the days. Just a chance to gather, share some talk & laughter, cake , crafting tales ... anything to chase away the gloom. So I am on it !! I will put on my thinking cap and come up with some sort of "Cheer Us Up " event. Watch here for details ...
In the meantime , here are a few projects.
KIT OF THE WEEK :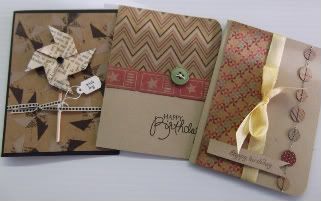 This kit uses kraft paper and patterned kraft paper form My Mind's Eye . (Psst ... I ♥ kraft paper !!) All the supplies are included (pre-cut, pre-stamped, pre-folded ...) for all 3 cards for just $5. Let me know if you want one saved.
* Oh ! And see that nice little stitched row of circles on the card ?? Think you need a sewing machine ??? Nope ! IT COMES THAT WAY !!! How awesome is that ?!! Just stick it on !
BEADS :
Have you heard of Chan Luu bracelets ? I hadn't but I had been seeing all these fun wrap bracelets on people on TV and in videos. Well they are made in Vietnam and start at $200 .... hmmm ... not really in my budget. But I did find some You Tube tutorials to make similar bracelets . So I gave it a try. Now it was a bit tricky because I had the help of 2 kittens but once they found something else to play with, it was a breeze !! You only need cord of some kind, strong beading thread, beads, and a shank button. An hour or so will have you sporting a wonderful new bracelet !! I can't wait to try other colour combinations !! Drop in and I'll show you how to make them !!
I am continuing the sales from last week ... check last week's post for info !!
I will be packing up all that is Christmas at then end of the month, so stop in soon if you need any paper or accessories. (and they are still on sale !!)
So ... pop in to see the new bracelet, check out the sales, or browse the new paper. Or just stop in for a chat & a laugh. See you !!!!