Hey there ! I have some great stuff for you this week ... and even more next week !!
Let's get started ...
All Christmas 12x12 patterned paper ... now ONLY 50 cents per sheet !!! All packaged Christmas embellishments, rub-ons, stickers ... now 50% off regular prices !!!! This week only .... next week it will be packed away !! Get it this week !!!

KIT of the WEEK
:
"Birthday Cards for Men & Boys"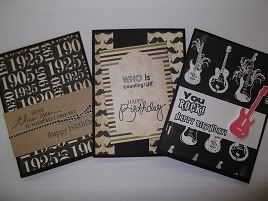 ... this week's kit is for the guys. The cards are made using the new paper form Echo park "Times & Seasons" and works really well for guys as well as for vintage projects. I kept the cards simple and "
frou frou free
" ... no big bows or flowers ! And they will also mail really well ... not thick or lumpy. You get all the precut prefolded prestamped supplies for all 3 cards for $5. That's not bad !! lol
PAPER
:
* Echo Park "Times & Seasons" ...
that's the paper in the kit. I love it ! Some of it looks like beautiful vintage fabrics, some of it is funny ... like the moustache paper. It really is great for many projects and styles. $1 sheet.
* Valentine's Day ...
paper kits and 6x6 pads from My Mind's Eye "Love Me".... beautiful valentine themed papers. I also have individual sheets for $1 each. Watch for this paper next week in the Kit of the Week .... but if you want some, better get it this week. It won't last long !!
BEADS
: I am still working on those "urban wrap bracelets" in the Chan Luu style. I love making them ... and so do many of you !! I am also trying a new earring and a ring ... hopefully there will be demos next week !! As well as some Japanese braiding and metal work ... exciting stuff !! Stop in this week for help starting a wrap bracelet !!
Kickin' the Blues Away !!
... Friday February 3 10 am to 5 pm ... here at the store. A chance for us all to get together, try new things, laugh, find our creativity, cheer up, eat a little cake, etc ... I will have prizes, sales, grab bags, demos, "try-it" projects, treats, even lunch !! If you are coming on your lunch hour, lunch is taken care of !! I will have a pot of chili on and will be serving it up. Please come ! Bring your friends !!!