Well, it was a great time here last week !! Lots of you showed up, many of you made FAB rings, we all ate cake & popcorn, and sipped fluffy pink punch. Prizes were won, gifts were given, and laughter was constant. It was wonderful !! Thank you all !!!
Here are last week's winners :
Bead Organizer : Sara Bates
Paper Organizer : Shelley Kingston
Congratulations !!!
When I came in to work Saturday morning, it looked like poor Classic Hobbies had a hangover ... popcorn on the floor, pink goo on the counters, hanging-down helium balloons, cake crumbs, overflowing garbage can ... but boy did it look like it had been fun !! lol !!
So let's get on with the new week ...
Kit(s) of the Week :
There are actually 2 kits this week ...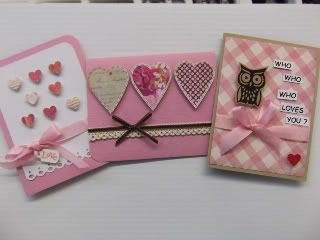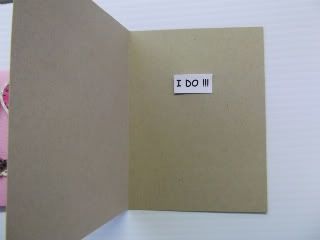 Card kit ... Valentine's ... these cards are "non-mushy" for the most part and could be used for friends or co-workers, family or the milkman. (heehee) The owl card would be cute for kids. You get the supplies for all three cards for $5.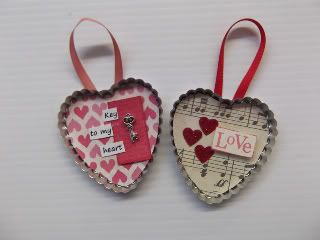 Ornament Kit ... this kit makes two cute little ornaments ... pop them in an envelope for a 3D valentine or hang them up at home. Fun & fast ! All the supplies for 2 for just $5.
Paper :
There is lots of new paper, some new stamps, lots of Valentine paper & embellishments, Valentine stamps, new trims from Maya Road, cute embellishments from Maya Road (i.e. the adorable owl in the card kit), new Sizzix dies and folders from Tim Holtz, I Rock Jewel Setter from Imaginisce and all the beautiful sparklies to go with the tool, Library drawers from 7 Gypsies, and more !!
BEADS :
Well the wire wrapped rings were a huge success ... and I am ordering more wire today !! So watch for more supplies in a week or two. Also the Kumihimo braiding was popular and I will have more of the square forms in stock with that wire. They make a flat braid. Watch for more cords in various sizes and colours. And I will soon have another fun new bead project ... it involves a hammer, an anvil, and eye protection ...
oh, the big time !!
I am going to try to do the following ... ( I promise to do my best ) ... in the weeks to come
* Kit of the Week Card Kit ( I do that now so that's not too much of a stretch ...lol)
* Jewelry Kit of the Week ... most weeks will be earrings or a small project but I will try for one bigger piece each month.
* Mini Album of the month
Last week's event was such a success that I will also try to do something similar (maybe not quite as big... don't want to get you too excited ..lol ) once a month. Treats & a demo of some kind. It was great fun and it is wonderful to be able to try things ... so watch for updates !!