Big post this week with lots of pictures. Let's get started !
Hey !!! Just trying to see how many people read this blog & the Facebook page ... leave a comment on either one and I will enter your name for a $10 gift certificate ! (once per person ...lol !)
PAPER
:
* new Graphic 45 ... "Olde Curiosity Shoppe" and "Little Darlings" ... great paper as usual.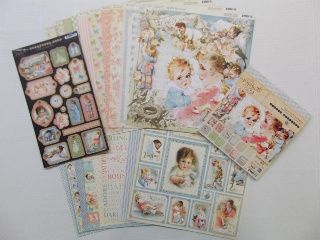 The Little Darlings line is adorable but it isn't strictly babies. It has a spring vibe as well as just pretty papers ... butterflies, bows, etc. Great for lots of projects and themes.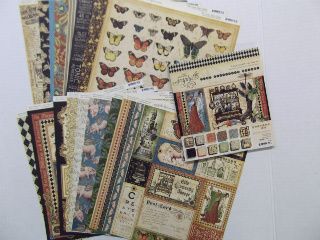 And the Curiosity Shoppe is super - it would work for any type of vintage project , cards, masculine themes, fashion, pigs ...lol ...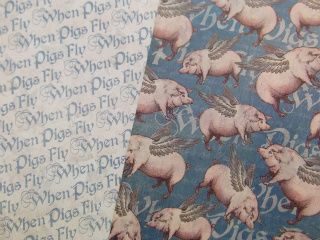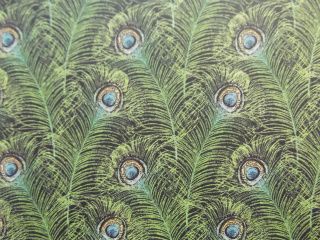 I have the 12x12 papers as well as the 8x8 pads , stamps, and chipboard pieces. I think it will sell quickly like their other lines did ... and may be scarce to re-order. Get yours as soon as you can !!
* Pink Paislee .... wow ! What a great variety in their lines this season. The "She Art" line is by Christy Tomlinson. I really like her collage work and have taken several of her on-line classes. With her paper , rub ons, tissue, and stickers, you too can make fabulous collages. I hope to have a few samples for you in the weeks to come.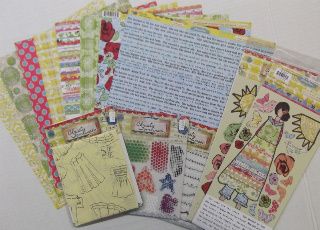 Another line from Pink Paislee is Prairie Hill ... soft earthy colours that seem to speak of a sun drenched summer. The designs are vintage but still fresh. Stamps, 12x12 papers, 6x6 pads, tags, stickers ... all available.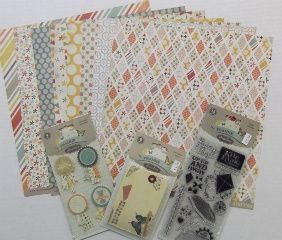 Also out this week is Indigo Bleu ... lots of lovely faded soft blues. Paper, pads, stamps, tags.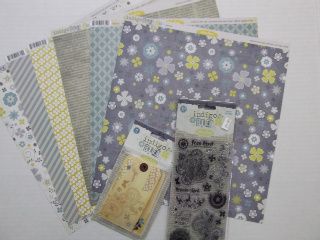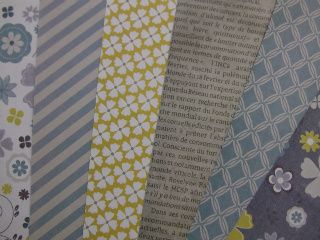 And last but certainly not least is Spring Jubilee ... this is vintage chic. Lots of roses, writing, ephemera ... vintage but girly and pretty. Fun for scrapbooking, cards, collage, etc ... 12x12 paper, 6x6 pads, ephemera, stickers, stamps, collage sheets, buttons, spool buttons, numbers, etc ... LOTS of fun stuff !!!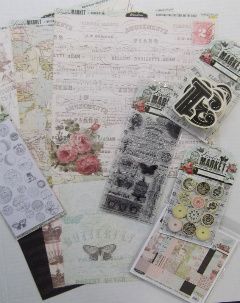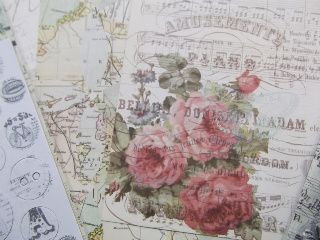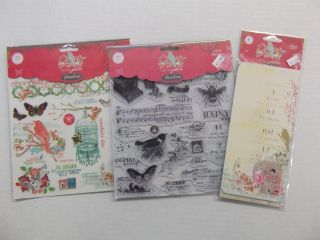 * Basic Grey .... "Konnichiwa"... this is delightful !!!! I love this line.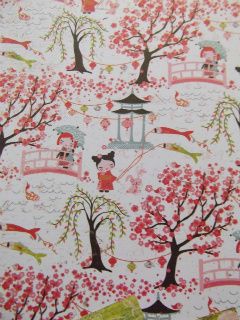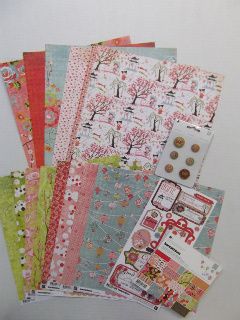 It is Japanese in style so it is full of cherry blossoms, flowers, Japanese girls, gold fish, birds, bridges, lanterns and in beautiful pinks, reds, and teals. So pretty !! Papers in 12x12 and also in 6x6 pads as well as stickers & buttons.
* restocked on the inexpensive tape that everyone loves. It is in a new package now so don't miss it !!
* Dear Lizzy from American Crafts ... fun stamps, tags and garlands. Just pull that butterfly up off the page and a garland starts to emerge. Cut off what you need. Ready to use !!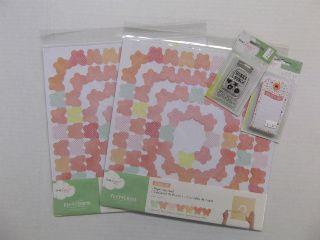 * new ribbon
* stamps from all the various paper lines as well as a few others !!
BEADS
:
* 22g wire in a rustic black for very urban, vintage, or industrial jewelry.
* new beads ... glass & metal
* trays have been cleaned out on a few tables & re-organized ... lots to choose from.
* new end pieces for kumihimo and other cords, braids, etc.
* some exciting new things on their way in the next few weeks !!!!
JEWELRY KITS
:
Butterfly Dreams Necklace & Earrings...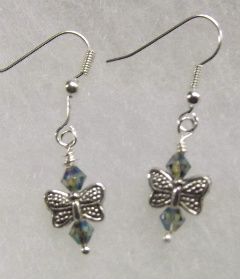 This necklace is a combination of strung beads, dangle focal piece, and cord. Very simple to assemble and summery in style !
The materials for the necklace and a photo with brief instructions is $10.
The earring materials + photo are $1.99. Little butterflies float with crystals to make a sweet springy pair of earrings !
PAPER KITS
... sorry. Still working on my workroom at home. A few more weeks !!