Hello !
EDIT : the winner of the gift certificate is Elissa Brown !!!
I am thinking about a card swap here at the store ... still working out the details. You would bring a card (or cards) in an unsealed envelope. At the end of the month , you would get a card from another cardmaker for each one you brough in. Let me know if you are interested !
I have some new items to share with you as well as some FUTURE new items to mention ... I am a bit between orders ... actually wondering where they are (?) ... so the next few weeks will be filled with new stuff !!
Paper :
* still lots of great new papers from Graphic 45 and Pink Paislee. Pink Paislee has beautiful embellishments and stamps to go with their lines ... OR they would work on their own or with other papers !!
* Bazzill Resist Paper ... this is great stuff !!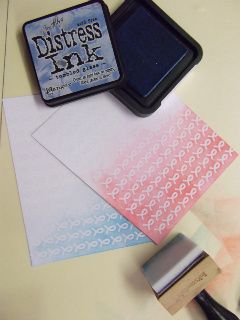 The paper is printed with an embossed design of "hope" ribbons ... all white. You apply ink to make it whatever colour you want !! So say you want pink for Breast cancer Awareness ... add pink. Red for military Fridays ... add red ribbon. Yellow for just plain Hope ... yellow ink ! The possibilities are endless !
* 25% off the Knock Out Punches from American Crafts ... yep, you heard right !! That means you can get a set of SIX edge punches for $44.24 !!!! That's only $7.37 each ! Wowzas ! The discount is on all the Knock Out punches ... starter sets and add ons too. This week only !
* Did you see the Prima crystal fairies last week? They are soooo pretty !! Perfect on a mini album or page for a little girl or a sweet card.
COMING SOON : great new stuff from Prima, Jenni Bowlin, Jillibean Soup, Memory Works, Paper Loft, Cosmo Cricket, Crafters Workshop, Sizzix, Queen & Co ( great twine & jewels !!), ... and more !! All in the next few weeks !
I am taking an on-line course with Tim Holtz for the next few weeks ... and I am learning a lot so far ! I hope to have some great tips & projects to inspire you to try new products !
As far as card kits ... we have primed the workroom & the counters and cupboards will start construction this weekend ... getting closer !! And I am brimming with project ideas . Soon my friends, soon !!
BEADS :
* more Fire Agate ... large pieces.
* filigree ornate clasps - gold & silver
* more crystal studded buckle clasps
* Swarovski Stairway Crystals - these are very graphic simple crystals - and gorgeous !! They are square and made so they align edge to edge if you wish to string them all in a bracelet. They would look beautiful as a focal point in a bracelet or necklace or as earrings ... or a ring !!! Fab !
COMING SOON : resin (oh the possibilities !!), metal pieces for stamping/embossing/inking etc ..., pearl & crystal bracelets, springy crystal butterfly jewelery, the new Swarovski colours .... and more !
JEWELRY KIT OF THE WEEK :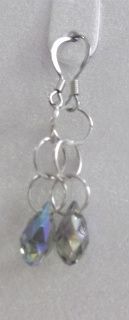 Here is a simple swingy pair of earrings ! It is always difficult to use drops that are drilled across for earrings so this is one way ! Because the hole is quite a way down, the rings need to be large so i thought why not make a chain of large airy rings ?! And voila ! A pair of really light airy earrings that swing and move nicely.
All the supplies and a picture for $1.65. They come in 2 possible colours - smoky blue and sea green. I promise you that the photo doesn't so them great justice . ( I really need to find a way to take better jewelry pictures ! Add that to the list ...lol )
Anyway, hope to see you this week ! Nice weather so get in your car ... and drive !!
Watch for another fun "make'n'take" day in early April !!!