Hi everyone !
I have been busy unpacking boxes and I am expecting several more by next week ... let's see what's new so far !
JUST IN !!!
* Honey pops RAINBOW honeycomb paper !!
* K&Co beautiful Travel dimensional stickers ... think shells, seahorses, lighthouses ...
* A beautiful set of sentiments for Sympathy Cards
* new paper from Amy Tangerine for American Crafts ... this is such fun paper ! The colours are gorgeous and full of life . Pinks, oranges, aquas, greens with a nice dose of black & white. It is lively and joyful. There are all also 6x6 pads of these papers and some great diecuts.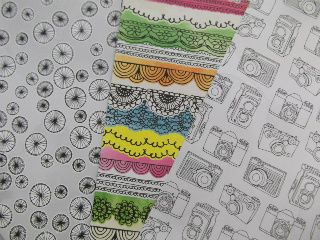 This one reminds me so much of Zentangle. Do you know Zentangle ? It is a new doodling craze. Google it ! Anyway, think Doodle Art. This would be fun to colour in with Copics or other markers !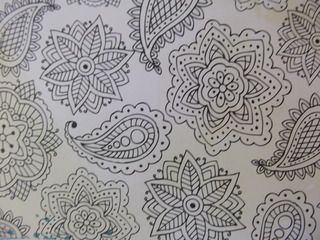 * Inkadinkado stamps ... more fo the green stamps that we all underestimated last Christmas. remember those ? They look chunky and ... well, weird and cheap, I guess if I am being honest ... BUT when you stamp with them you get a TERRIFIC image with lots of details. Once I made samples with the Christmas ones, they sold out in a day. So I am excited to take these home & experiment. I really love the peacock ( already thinking STICKLES !!), the leaf silhouettes are amazing, and the Old Coins hold some intersting possibilities . AND the sets are only $3.50 each !! B.A.R.G.A.I.N.
* Ranger ...

new Collage Glue Sticks , Craft Nib Holder, Specialty Stamping Paper as well as some new-to-me/replenished products ... more Distress Stains, more Distress Crackle paint, more Alcohol Inks, more Archival ink pads, Cut'n'Dry Foam, Mister Bottles, ... Why all this Ranger stuff ???? Well, I just finished an on line class and I am PUMPED to make some fun samples using the techniques I learned and the Ranger products. And I think when you see them, you'll want them too !!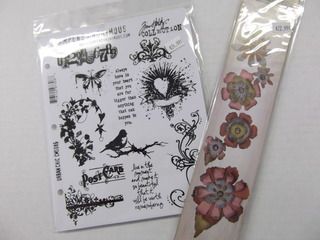 * Tim Holtz ... new Waterbrushes as well as a new Sizzix Decorative Strip Die "Tattered Flower Garland". I also ordered in some of his older classic stamp sets.
* Bazzill Honeycomb cardstock ... new colour.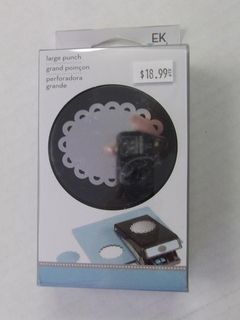 * great punch ... love the shape & the scalloped edge !
* 8.5x11 photo sleeve holders
* X-Press It Blending paper (for Copic) ... packages of 10 sheets for $6.49.
BEADS :
**** By the way ... did anyone buy a Butterfly Dreams necklace kit and NOT get instructions ??? I have discovered that I completely forgot to add instructions to some of them . So sorry ! let me know & I will get you the instructions . Duh. ****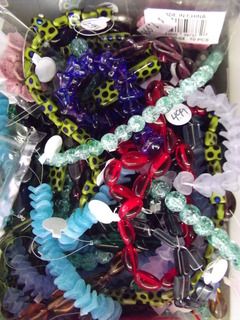 * still unpacking ... new seedbead mixes, metal beads, cords, strands of beads, crystals...
* expecting another big order next week !
JEWELRY KIT OF THE WEEK :
Fun Swingy Earrings !
These earrings are nice and long (to give you a nice long neck !!) and feature lovely lampwork beads. get the supplies & a picture for $3.
I also have these longer ear wires in sterling silver for those of you who have metal allergies. They are $5.99 a pair but the really nice thing about these earwires is that the beaded piece can be slid on & off ... you'll only need one pair and can change the dangles !!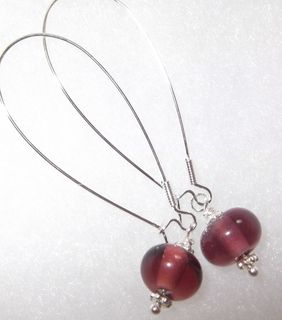 They come in a variety of colours & designs !
So ... that's it for now ! Stop in ... I hope to see you !
P.S. I have extened the sale on the TimHoltz Giftware & Cases ... 40% off ... the purses are all gone...