Well a little snow & that was Easter ! A bit of a surprise from the bunny !
Last week was a funny week ... split into two. This week will be more like I'm used to !
So let's see ... what did I want to tell you this week ?
PAPER
: There was lots of great new things last week ... and more this week !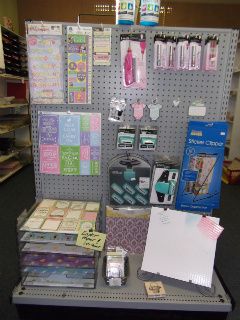 *I have a bit of Easter paper left ... 50 cents per sheet ! Get your Easter pages done for your albums. Embellishments are 40% off. (Does not apply to lay-aways)
* see the sales at the bottom of this post ... Tim Holtz ...
* and speaking of Tim Holtz ... I just finished an on line course with him. It was wonderful !! I learned so much and have ordered in a whole bunch of Ranger product as a result. I can't wait to start doing some projects and demos with the products .... you will love them and all the things they can do !!
* this week I am unpacking Glitter Ritz, October Afternoon, 7 Gypsies, Prima ...
* $5 Bead Mix bags ! These bags are great for memory wire bracelets, floating necklaces, ChaCha bracelets, ... anything really ! Each bag contains a mix of seed beads , filler beads, and larger beads all in a colour theme. Themes include Cotton Candy, Steel Town, Twilight, Citrus Mix, Candy Apple, Mermaid Mix, and many more !!
* more of the Crystal Drop Earring Kits ... sweet little earrings for $2.50 pair. Many colours !
* more Butterfly earrings ... and I am working on more of the kits for the Butterfly Dreams necklace.
Jewelry Kit of the Week
:
* A "kind-of" kit ... I have bagged up the pearls & crystals in various colour combinations for this bracelet. If you want all the supplies , I can add a bag for that too ! The bracelet is made with nice big 10mm Swarovski pearls and tiny little 2.5 Swarovski crystal bicones in between. It is very glamourous and lovely ! But it would still look "stylin'" with a pair of jeans. The crystals & pearls are $9.50 . To get all the supplies would be $12. It would be a gorgeous Mother's day gift . Maybe it would be the perfect bridal jewelry ... or you could just wear it to a wedding !! I have several colour combinations ... this one is lavender. I have bronze, almond, powder rose, light blue, cream, white, platinum, light grey , etc ... all soft, elegant colours.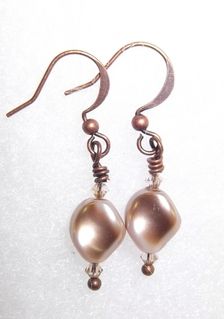 * A REAL Kit ! Earrings ... a Swarovski bronze pearl combined with Swarovski golden shadow bicones and antique copper ... simple but elegant ! Supplies + photo $2.50 !
SALE
: 40% off Tim Holtz purses, note card sets, journals, and wall canvases.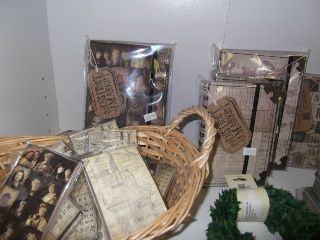 I have only one purse left ... the beautiful ticket one ... will only be $20.99 (reg $34.99) grab it before it's gone !!