Okay ... this is a quick one ... it has been a crazy week (dead computer, new hard drive, cloning all my files/accounts/programs, catching cats and kittens , tons of orders to send, a new kitten, vet appointment, ...yada yada yada ...) and I am trying to plow through a HUGE order of beads. The box isn't all that big but, judging by the attached bill, there is a lot in that box !! So I don't have much time to blog - I need to get things done !!
ohh ... here comes Purolator with another box ...
I have several more boxes arriving this week or early next week so there will be lots and lots of new things to enjoy.
Here's a quick photo of some of the new semi-precious beads ... love them !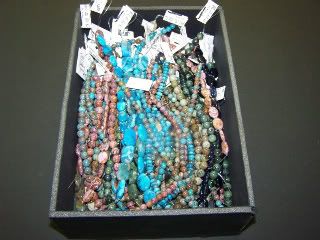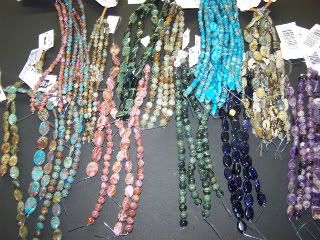 And here is some GREAT crystal news ... I have a whole heap load of Preciosa crystals. They are 4mm bicones in bags of 40 and they are on sale for ... (drumroll) ... $3.99 !!! Yep, that's right !! ( that's only 10 cents each !!!) I bought LOTS so I could get a good price to pass on to all of you Christmas jewelry makers. And ... because I am so darned happy today ... I am offering you another deal !! Buy 5 bags and get a 6th FREE !!! Yes, FREE !!! How sweet it is !!! And I also have 6mm in bags of 36 for $4.99 ... less than 14 cents each !!!

So stop in and check it all out for yourself !! See you next week with a BIG update ... and hopefully some Christmas projects ...
Pam