The weeks are flying by ... where does it go ?
Well some of the time is gobbled up by unpacking NEW STUFF !!!!
Beads !!
New semi precious : charoite, snakeskin jasper, coral, Mexican petrified wood, chocolate jasper, turquoise, citrine, tiger eye, rainbow fancy jasper, moonstone, denim lapis, red spot jasper.
I have large pieces of some, chips, rounds, faceted rounds in 6mm and 8mm ... lots of variety. I also just finished an order for next week for several new semi precious collections. mmm ... really pretty !
Glass cabochon pendants ... I forgot to mention these a few weeks ago ... small $1.99 and large are $3.50. Just add a chain and you have an instant Christmas gift !!
Christmas Tree & Snowman Earring Kits ... there will be more in stock this week.
Agate ... these are the large polished pendant pieces ... they are selling quickly so you should grab what's left if you want more. They are not something I can get more of.
NEW SWAROVSKI : 3 new colours available in bicones & briolettes. Cyclamen ( a beautiful purple), Greige ( a taupey grey - nice neutral), metallic light gold crystal x2 (antique metallic colour). All very nice !! I can just see them all together in a bracelet ... !!!
BOXES ... the jewelry gift boxes should arrive this week !! Also in the order are tags & dumbbell ring tags.
In the next 2 weeks watch for ... new BEAUTIFUL semi-precious , Preciosa crystals by the bag for great price deals, new charms, Christmas charms, more Swarovski crystals ( the rack is looking pretty empty ...), and whatever else I can find that sparkles !! I hope to keep cleaning out the trays & boxes as well ... and that means end-of-the-line sales !!
Paper !!
***************************************************************************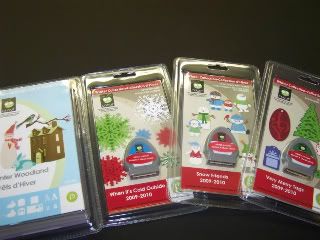 New CRICUT Cartridges !!!
Winter Woodland -
this will cut a 3D village ... I only have one and it is sold but I can I can special order for you for $85.
And
IN STOCK ... mini cartridges for $29 each !!! Snowfriends
(cuts 10 different snowmen and outfits !),
When It's Cold Outside
(cuts 45 different snowflakes and 3D snowflakes) ,
Very Merry Tags
( cuts 50 different holiday tags) . How great is that ?!
****************************************************************************
Punches, stamps, cardstock, glues, paper mache boxes just waiting to be covered in festive paper !!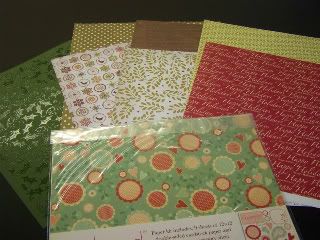 My Mind's Eye : Be Loved paper kits.
Dream Street Papers : Merry & Bright
Jillibean Soup : Christmas paper
Bazzill Varnished paper : Holly Flourish on Ivy paper.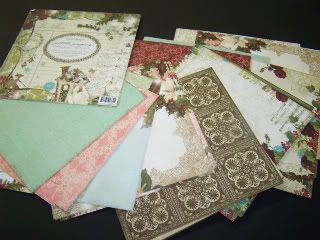 Websters : Petite Papers :
Home for the Holidays + Winters Wings
and
Postcards from Paris + Sweet as Cherry Pie
as well as tags, letters, etc...
Also some fun little albums : Grunge book by Tim Holtz, mini Christmas tree & cocktail glass albums, and a Maya Road clear acrylic mitten album.
MORE advent calendar box kits !!!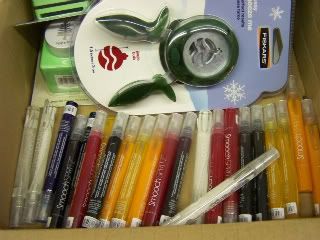 And here's a box of punches and SMOOCH Spritz waiting to be unpacked ...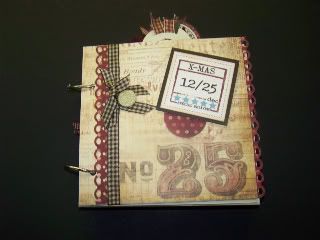 And here is a little album I made with Pink Paislee "Mistletoe & Co." paper and a Melissa Frances Envelopes & Tag Book (only $4.99!!). The Christmas season is just that - a whole season. So I am going to record the 25 Days of Christmas in this little album ... so I can remember all the fun things that we did during the month. Each page is actually a little pocket with a double sided tag inside. I can add a photo or recipe to the tag and journalling on the pocket. Fun !!