The parcels are just rolling in so I don't have much yet for photos & details, but as the week goes on I will. I have a box of
scrapbooking
stuff right now that I am unpacking ... punches, stamps, charms, glue sticks & pens, tape, brads, Cosmo Cricket Mini Decks in Nutmeg and Earth Love, JilliBean Soup corrugated craft letters, Hambly screen prints paper ... I am expecting a box of
beads
later this week or maybe next week before it arrives. I do have some Christmas Tree Earring Kits again but they won't last long !! Next week I will have the snowman earrings(pearl and crystal) again as well as more trees. I also have a good selection of glass cabochon pendants in various sizes & colours. Nice
QUICK Christmas gifts
!!!There is also another box of
scrapbooking
supplies making its way here but it's ETA is next Tuesday ... that is the box with the Karen Foster
Advent calendars
among other things.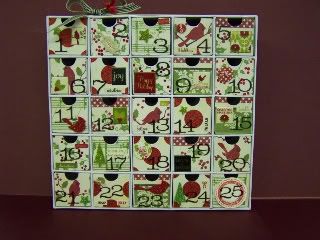 Here is a
sample
advent calendar I made up this week ... a really fun project and, once I stopped following the directions and just did it , easy & quick !! I have 8 coming in and many of them are spoken for, so let me know if you want one too !!
Have a great week and hope to see you !!
P.S. If you leave a question in the comments I will answer you in the comments section. Thanks !!