More new things !!!
BEADS ...
*** Well ... unfortunately , due to the holiday on Wednesday, the "Bead Truck" has not arrived !! It will be here later in the week so I'll show you the new things next week !!***
PAPER ...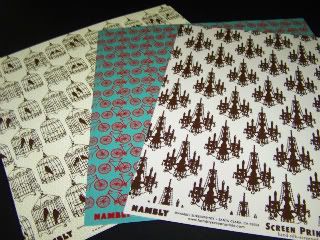 Hambly Screen Prints Paper - bold graphic designs. Fun & Funky !!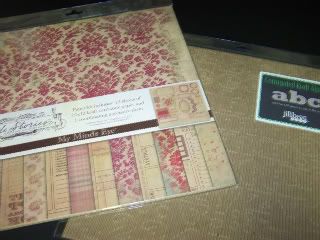 New "Life Stories" paper kits from My Mind's Eye - great vintage style. And also Corrugated Letters from JilliBean Soup - fun !!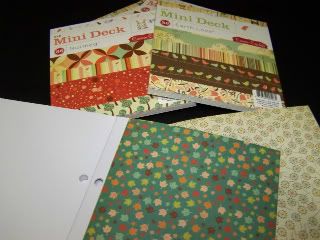 Mini Decks from Cosmo Cricket for the new series "Nutmeg" and "Earth Love". These are great for cards as well as scrapbooking because the patterns are shrunk down ! So cute !!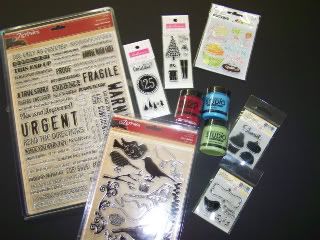 New stamps : 7 Gypsies, We R Memory Keepers, Bella Blvd , as well as paint by Claudine Hellmuth ... I only brought in a few colours to see how it goes but will get more if there is interest in it ! I also have the Tim Holtz Distress Ink "Peeled Paint" back in stock -it is the most beautiful olive colour.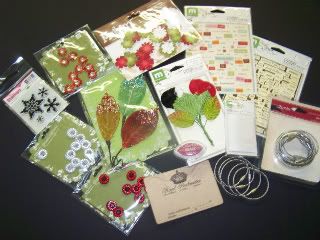 New flowers from PRIMA : beautiful Sultan gems and Sequin flowers as well as Winston Jewel Box Leaves. I also have Mulberry Flowers from Petaloo in great Christmas colours. There are some new items from Memory Keepers in their Vintage Finding line : velvet flowers ( they would look great with Graphic 45 paper !!), tickets, and Word Fetti stickers. I used some of their Word Fetti on my advent box and it was great. There are all kinds of words that can simply be stuck on , either alone or in groups. Really fun to use !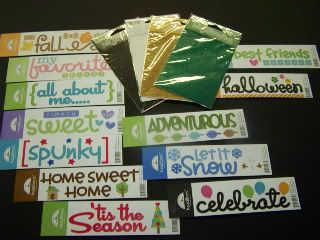 Adhesive Titles from Doodlebug ... only $1 each ! And more glitter for the adhesive rub-ons.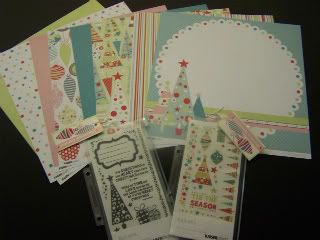 CHRISTMAS CARNIVAL by Kaiser Craft. Isn't this cute ?! Really happy paper in cheerful colours !! Only $1 sheet. The rub-ons are great too - and they come in a reusable little zippered pouch.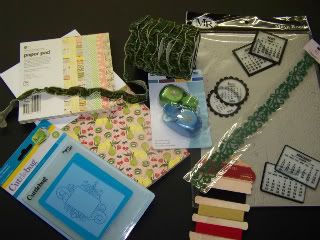 The MOST BEAUTIFUL ribbon from Maya Road - velvet scalloped ricrac. Scrumptious !! Also a Cuttlebug folder ... with more new ones on their way as well as some smaller Cricut Cartridges !! Punches. 7 Gypsies Seam Binding. Maya Road : sheer 2010 calendars (these are in limited numbers so don't wait !!) and a Mini Christmas tree Book as well as 5x7 Tabbed Binders. Adhesive Felt Trim from Queen & Co.
ScorPal tape ... this is my favourite tape. It is REALLY sticky. You know how discouraging it is to do a layout or a nice card and then have a piece fall off ? Well, that won't happen with ScorPal tape. I have carried it for quite a while but now I have some wider options including 1/2" , 6x6 sheets, and 1.5" wide. Now, you may be asking "Why on earth would you want 1.5" tape?". Let me tell you ! If you make any kind of altered art, covered objects, etc... this is what you want. It will adhere larger pieces of paper & heavier objects. The tape is the perfect width to adhere the notepad I showed a few weeks ago to the paper cover. The notepad is a bit heavy and it isn't going anywhere !! I love it and use it for all my projects now. You can even punch designs out of the wider tape, glitter them, and then adhere them to projects. Perfect !
A few other new items ...
charm packs (Christmas & sea life themes), 12x12 kraft cardstock.
OOPS ! Almost forgot !
I also have We R Memory Keepers Ring Binder Page Inserts. They come in 10 packs and I have 2 different packs. They are great if you have A TON of photos ... you can scrap a strip and then add lots of photos. There are various size pockets in the pages. One package has sheets with a 4x12 pocket and 4-4x6 pockets. The other pack is an assorted package that has the following:
1 12x12 sheet
2 sheets 6- 4x6
1 sheet 6 - 6x4
1 sheet 3 - 4x6, 2 - 6x4, 1 - 12x2
1 sheet 4 - 4x6, 1 - 8x6
1 sheet 3 - 4x6, 1 - 12x6
1 sheet 4 - 4x6, 1 - 4x12
1 sheet 3 - 6x4, 1 - 6x12
1 sheet 9 - 4x4
Phew
... that was a lot of typing !! Anyway, as you can see, you could scrap AND stow a lot of photos, and each page would be an interesting format.