Hello !
Seems like Spring is here ! Lots of sun and warm temperatures ... you'll soon need summer jewelry as well as paper & supplies to scrap those spring/summer photos !!
PAPER :
More new product ... it comes faster than I can get it unpacked each week ! This week I have :
* COSMO CRICKET - "Material Girl". Nice cheerful paper with a sewing theme, but not overtly. I am expecting Maya Roads mini chipboard "Sewing" pieces as well as the Dress Form Chipboard Book in the next week - they would be amazing with this paper ! I also have in stock the matching buttons, borders, cards, and the chipboard elements.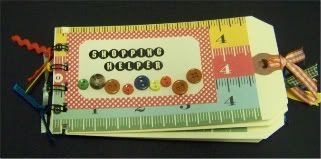 I made a little tag book with "Material Girl". This is a really quick little project that you could make to throw in your purse. Just add a name to each page as well as sizes and favourite colours ... all ready to shop for birthdays & Christmas !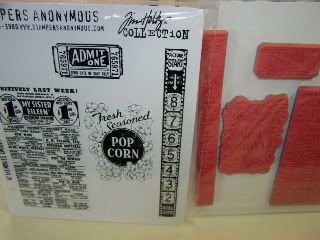 * TIM HOLTZ/STAMPERS ANONYMOUS - a bit of a disappointment ... I only received ONE design of his stamps . The rest were already sold out ! Thank goodness I have a PRE ORDER for his SIZZIX dies - they'll go fast too ! Anyway, it is a really cute stamp and I will be re-ordering the others.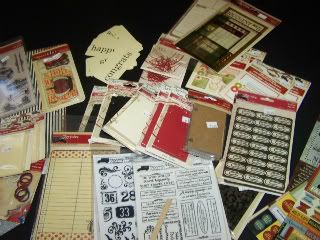 * 7 GYPSIES ... lots of odds and ends. Great tags, transparencies, ATC cards & dividers, rub-ons, flocked & glittered rub-ons, stickers, labels, twist ties, word shaped paper clips,ephemera, and paper ... expecting their new lines soon too. I am working on a Gypsies binder and hope to have it done in a few weeks to show you ... I want to use oodles of this product !!
* BAZZILL ... tulle by the yard and more BAZZILL cardstock ... more colours
* TOMBOW glue sticks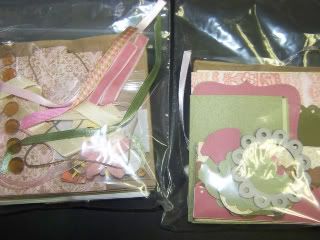 * more PAPER BAG ALBUM kits ... using Basic Grays "Porcelain" so the kit is in soft greens, pinks, creams, etc... LOTS & LOTS of STUFF in those bags !! Only $10 each. All you need to add is glue ! ( ... and I could hook you up there ...)
Here are a few things I made this week ...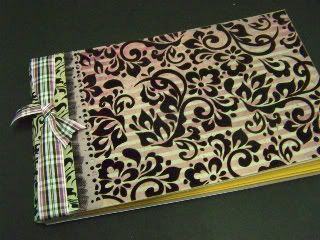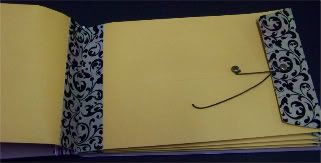 This is an envelope book ... got the idea from a Heidi Swapp webcast ... used the GORGEOUS flocked 7 Gypsies paper. I couldn't find the envelopes with the little brads so I added my own. Prettier than the brass ones anyway ! I added tulle along the cover in a little ruffle - that is the tulle from Heidi Swapp that I carry in little spools. I now have Bazzill tulle by the yard. Anyway, a fun project !!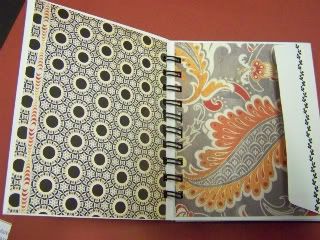 And another envelope book ... but I folded them this time. This is using Basic Gray ... I LOVED this paper - so dramatic ! Anyway, folded envelopes and left over chipboard ! I bound it with my BIND-IT-ALL ... just like the little tag book. I have been using my Bind-it-All a lot lately .. I will be carrying them and the supplies ( wires, precut covers, tools, etc ...) . I had ordered several but after a few phone calls they were all gone but one. Another phone call last week and it too is gone !! So I guess they are popular !! But, don't worry, I'll have more soon and will do a little instore demo when they arrive !! They are a great little machine !!
BEADS ...
Not as much to report ... still gradually packaging and putting out stock. There are lots of findings and spacers as well as odds'n'ends. I just received a new catalogue today so I will be pouring over that tonight ... EXCITING !!!
** Next week will be the Cookies for CAPS sale for March. Thursday the 25th & Friday the 26th. I am leaning towards Giant Ginger Sparklers and Big Double Chocolate cookies. Remember a $2 donation gets you a cookie and a tea or coffee. ( and I have some really cute bags if you want one for the road ... !!)