It's March already ... time for spring projects, Mother's Day gifts & cards, Easter, ...And I have new things here to help you with those projects !!
BEADS :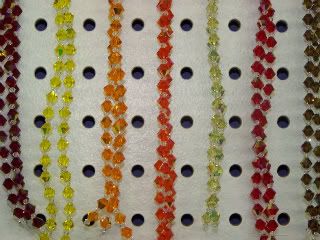 * new Preciosa strands ... these were so popular that I brought in more colours as well as some bulk bags of the 3mm crystals. They look great between beads.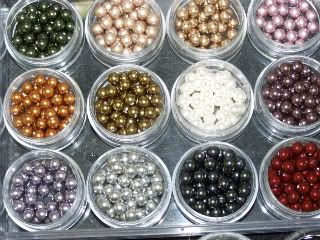 * more Swarovski crystal pearls ... 4mm and 6mm, new colours. Individually and in bags.
* magazines
* ball chain in silver and gunmetal
* more Wildfire and beading needles in stock for all you "peyote pals" !!
* round copper spacer beads in 3mm and 4mm
* more Unicorn lampwork beads ... these are sooo beautiful !
* vials of 10/0 and 6/0 seedbeads ... mixes and one colour tubes
I am working on some new samples ... may be ready next week !!
Also the glue is arriving at the end of the week for the glass tile pendants so I will have those all out next week ... they are really fun to make & super easy !!
PAPER : all the new products are starting to arrive ... something new every week !! This week I have the following ...
* LUSH by My Mind's Eye ... this is gorgeous paper ! It is flocked and fabulous.Some of the line is flocked and some is plain ... and the prices are great - only $1.10 for flocked and $1 for matching double sided cardstock. There are lots of great accessories including flocked chipboard books and letters, crystal embellishments, rhinestone brads, awesome patterned brads and more !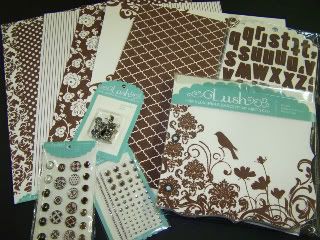 Brown
Green
And here come my favourites ... RED & BLACK !!! I think black would make a beautiful Wedding album.
Here are the flocked letters & numbers ... I left them out of the photos somehow !!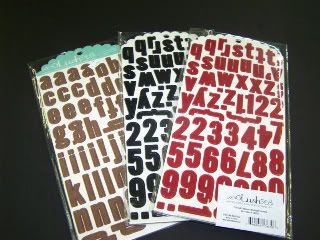 *** NEWSFLASH ... If you buy 6 or more sheets of LUSH paper , I'll give you 20% off any accessories form the line ! ***
And, if that isn't enough flocking, how about these beauties from 7 Gypsies ??? Not only are they flocked, they seem to have a metallic shimmer too. I DROOL when I look at these !!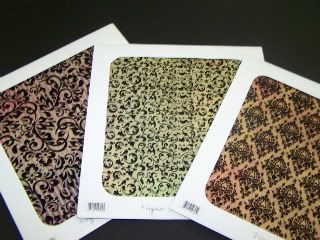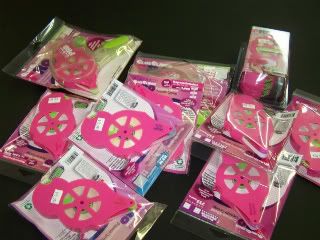 * Glue Glider ... I sold out of these last time. So this time I have more ...continuous strip, repositionable, perma squares, high tac ... I also have a 3 pack of refills that will save you $5. Did you know that you can pop any refill in the gun at any time ... no need to finish a roll ? Really handy !
Next week I will have Cosmo Cricket's Material Girl and Garden Variety as well as a whole bunch of stuff from 7 Gypsies. There will also be new paper, ribbon, books, and accessories form Teresa Collins ... Bebe Boy, Bebe Girl, Welcome Home , and Mr. & Mrs. And MORE !!! Keep watching !!
Here's a quick & easy spring project ... hard to see in the big photo so I broke it up.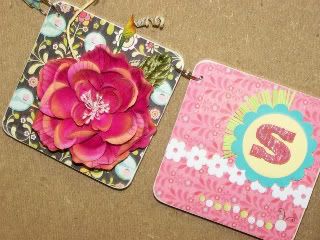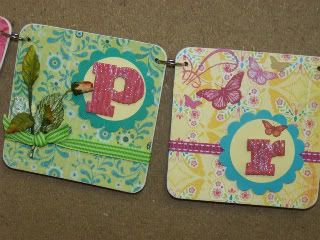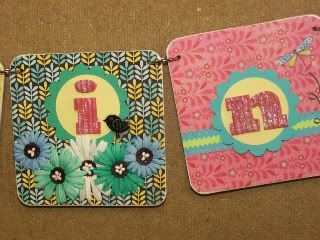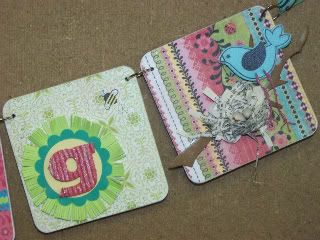 I have lots of materials left over so let me know if you would like a package to make one yourself !!
hmmm ... what does Mama bird have in that nest ? Here's a little close up !!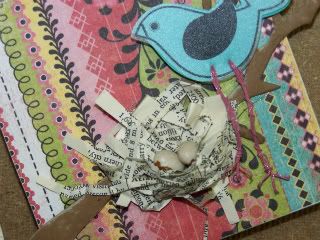 Happy day !!
P.S. Special thank you to all of you who bought Kari's cupcakes last week. The next "Cookies for C.A.P.S." days will be March 25th and 26th ... but it will be me baking so I'm afraid there will be no kitten or puppy cookies !!