Okay ... I have officially oooozed out into the other room ! There is so much new scrap booking stuff that I have decided to set up a temporary, changing weekly, display in the entry room.(Beads take up so much less space ... I can squeeze them in any where !!)
So this week you will find ...
* COSMO CRICKET "Garden Variety" ...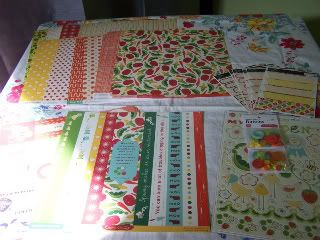 (look at that sun streaming in the side of the photo...)
this is super cute. I am making a Garden Journal out of it now & hope to finish it in time for Thursday.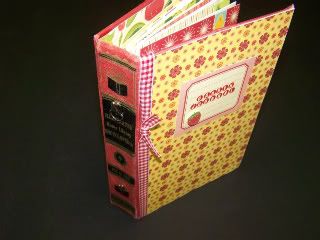 I did finish it !!!!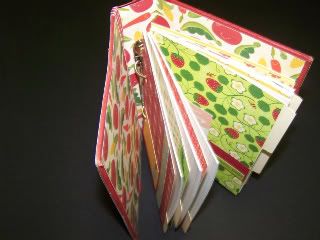 My dividers...
I just need to add a few dangles off the spine and "finito" !!
The paper is bright & vibrant - it just sings of spring ! I have the paper as well as borders, tags, chipboard elements, and buttons. The journal is made using an old book and a binder mechanism. And I have those too !!
Imagine all the great things you could do with those old dusty books in the basement !! The possibilities are endless ... cookbook, journal, diary, photo album, reading lists & book reviews ... on and on ! I will have some kits made up in the next few weeks too in case you don't have any old books or just want a kit with everything precut. Paper is $1 a sheet and the borders and tags are $1.50.
(WATCH FOR "Material Girl" and some cute sewing themed projects in the next few weeks !)
* TERESA COLLINS ...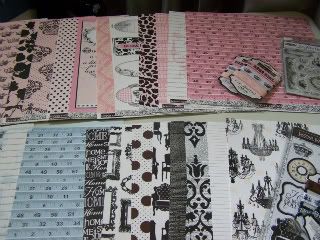 I have 4 lines from her. "Bebe Boy", "Bebe Girl", "Welcome Home", and "Mr. and Mrs.". You don't really need to have a baby, a home, or a marriage to love these papers ! They are very romantic featuring crowns, chandeliers, etc but they are, at the same time, very graphic because of the colours ... baby blue & black, pink & black, and black/white/brown. The backs of the papers are great papers for scrapbook pages - lined sheets, ledger paper, etc...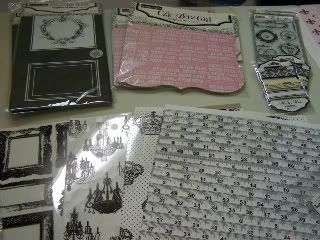 The lines also have beautiful ribbon, rubber stamps ( only $9.99 for a whole package !), clear overlays, and chipboard bookcovers. Really great lines ! Paper is also just $1 per sheet.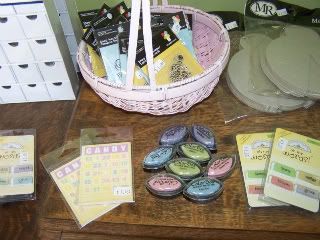 * Nice "Springy" ink colours (lettuce, shabby pink, cape cod, plumberry) as well as Jenni Bowlin Spring/Easter Mini BINGO cards - great for Easter cards !
* Jenni Bowlin Team BINGO cards ... great for hockey or other sports layouts.
* MAYA ROAD ... Ladybug Chipboard books, Robot Sheers, Mini Cupcake Chipboard.
* lots of new Stickles
* Jenni Bowlin dotted labels and super cute Banner Stickers
* Cuttlebug folders
* Stazon Ink
* PSST! Shimmer Spray ... little sprays in lovely metallics
* Cute clips from Heidi Swapp
* little translucent word tags for Fall, Spring, and Believe - great for cards, scrapbooking, or as jewelry charms.
* and lots of little fun things !!
Here is a sampling of the Cupcake cards I have been making this past week ... I can't stop !! I have sold out of the stamps but will have more in soon !!
BEADS :
* I HAVE RING MANDRELS ... FINALLY !!!!
* Ring sizers
* Small catseye cylinder beads in bright happy springy colours ... only $2.49 per strand.
* Swarovski Crystal studded chandelier earring kits. Complete with chandeliers, headpins, ear wires, and jumprings. Just add some little dangling crystals. Only $2.99 per kit.
* Findings in ANTIQUE BRASS/BRONZE ... jumprings - fancy & plain, headpins, eyepins, toggles, lacy caps
* FABULOUS CONVERTERS ... ever make a necklace and then wish you had a different clasp in it ? Or maybe you have an older necklace and it is really hard to do up. This is for you !! The clasp is magnetic but comes attached to a lobster claw and jumpring. Simply attach it to the existing clasp and it is now an easy magnetic clasp !! No restringing !! Come see ... I'll show you !! $2.49 each. OR,sometimes, PRICELESS !!!
SEE YOU !!!