Did Santa move his workshop to my back room ??!! I think he did - or is at least using it as a warehouse !! There has been so many parcels arrive here in the last few weeks it will be next year before I get them all unpacked (ha ha!!) !!
Anyway, that is good news for all of us ... that means that when the hubbub of Christmas is over, there won't be a big boring craft lull. No way ! There will be a full on onslaught of new products, new ideas, and fun techniques and projects !
Have you seen this ? This is my charm spinner and it is FULL of amazing things !! Check it out - beaders & scrapbookers ! There are charms, findings, odd bits, lots of little project pieces. And because I am now using this I was able to empty many many trays and make more space for more beads !! All good !
So let's see what's new this week ...
BEADS :
* more new Swaorvski Helios crystals in smaller sizes - the first batch sold out in no time !!
* lots of chain necklaces ... ready to be quickly made into wonderful gifts !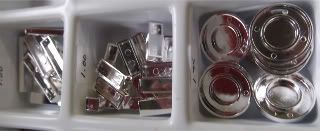 * Katiedids - these are great metal "frames" that you string beads into. Hard to explain but not hard to do !! They come in stick forms, donuts, and pendants. You simply insert a stringing wire or head/eyepin through the top hole, add beautiful beads, and then out the bottom hole. Ta Da ! A beautiful custom made bead filled piece !!
* ladybug beads
* beautiful strands of fire polished & machine cut crystal beads. Lovely !!
* more hemp ! Lots of colours & sizes !!
* findings : restocked on crimps, crimp covers (YAY!), head & eye pins, jump rings, earring pieces, lots more !!
* more charms and interesting findings
* earring cards are back in stock !!
* and so are jewelry boxes in various sizes ... earring size , bracelet, necklace or set size.
* more Beadalon pinch bails and earring forms. Lots of fun !!
* more tools, display pieces, bags.
No promises ... but ... tonight I am going to try to make a few Katiedids as well as a few rings/pendants for samples. Here's hoping !!
PAPER:
* Great news !! In my unpacking I found some more of the "
Tinsel and Twig"
series from the Paperie Girls. This has sold out twice and I now have another 100+ sheets !!! This is the series that has the music paper that everyone has been wanting !! Get it quickly !!
* One of my new favourite things !
"Design Adhesives"
by Clearsnap. These things are awesome !! They are sheets of adhesive designs (hmm ... maybe that's where the name comes from !) that you simply apply to your card or page. Peel of the backing, press onto the paper, peel off the top paper, add glitter or embossing powder, shake off the extra - DONE !!! A beautiful sparkly - or fuzzy - design with very little effort ! You can even add part of the design, do it one colour, then add the next part and use another colour ! Magnificent !! They come in packs of 4 sheets of the same designs but I'll open them up so that you can have a variety . They also make foil sheets so that you can do the designs in foil. No end to the possibilities ! A simple card will really come to life with a little glittered snowflake or word. I also have other non holiday designs.
Here is a card that I made really quickly last night ... doesn't take much !!
(maybe a too quickly ... I missed a few spots !!)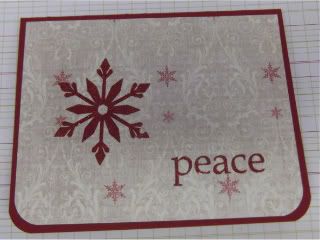 (the snowflake and word "peace" on the sample card are done using the Design Adhesives)
* more little stamps
* refills on cardstock
* more inks
* Ranger alcohol inks
**
I have some great cutters in stock as well as a Cuttlebug - all great Christmas gifts !! The Cuttlebug comes with a set of cutting dies and embossing plates for $74.99 ... the newly redesigned Cuttlebugs will be $120+ ... this would be a great deal !!!
KIT OF THE WEEK :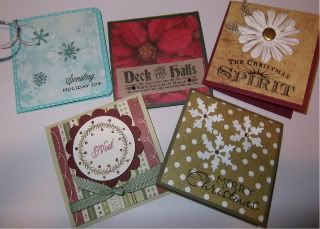 This week's kit is 5 little gift cards. They are fairly simple and would be easy to duplicate in quantity if you needed a whole bunch of gift tags. The aqua tag uses the Design Adhesives snowflakes that I described above. Quick fun little projects. The kit is $5 but I have a limited number so let me know if you want one & can't get in right away !