Wow ... where did that come from ?? I was working on orders for Christmas products when I realized - HEY !!! It's next week !!! I can't believe it. So I seriously edited my orders ... won't need Christmas product week after next !!! So ... this week will be the last Christmas kit ... after this it could be ANYTHING (and I'm excited about that !!) ! The kits are $5 and include supplies to make all 3 cards.
Here is this week's kit ... 3 cards ... this would be a great stocking stuffer even for someone who has never made cards before. Buy them some adhesive, maybe a Stickles, and this kit and they will be on the road to card making !!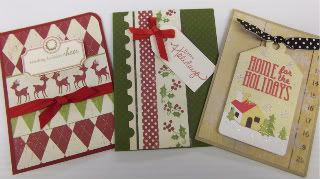 *Please note : some of the kits will have a different tag for the cream coloured card on kraft. I only received part of my order but I have substituted some lovely Winter tags. **
** I have 5 of the Christmas Planner kits ... found the folders in my workroom so I cut the papers and put the kits together ... let me know if anyone wants one. $5 each. See Week 5 (October 6th) for photo. These kits are all made with different papers so there is a good variety.
I will also have lots of new beads unpacked by Thursday ... and some mixes as well. I am in the store today because I can't make samples & kits at home IN THE DARK after the big wind storm so I am hopefully going to get some great bags of bead mixes done up for gift giving and future projects ! Any beader would be thrilled to get a beautiful themed assortment for Christmas !
I also have more of these wonderful modern style tree earrings...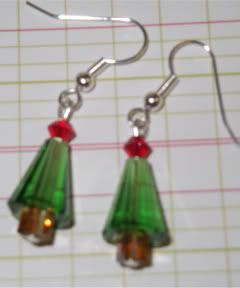 ... sorry about the blurry picture ... they aren't blurry in real life !!! AND , if the power is back on tonight, I will have some wonderful angels as well ... smaller versions of the crystal big angel pendants that sold out so quickly. Fingers crossed !!!
So, I guess I'm off for now - Christmas scrapbooking stock to be put out as well as bead mixes to be mixed !! Remember, this Saturday is the deadline for the card contest ... get your card in for a chance to win a $10 gift certificate.
I should also give you my hours for the next few weeks ...
Thursday December 23 ..... 10-5
Friday December 24 ( Christmas Eve) ........... 10-2
Saturday December 25 ........... closed
Thursday December 30 ....... 10-5
Friday December 31 (New Year's Eve) ....... 10-2
Saturday January 1 ........ closed
After that ... BACK TO NORMAL !!!! Thank goodness !!
Stop in this week to see what's new, pick up your kits, get a few stocking stuffers or gift certificates, and maybe enjoy a treat !!! See you !!