Hello !
This week has been all about clean up - and more clean up !!! Michelle & I have sorted through most of the bead trays, cleaned them out, washed them, and refilled them. And what a job !!! AT the end of this third day, I can almost see the end ... of the tables we have done !! But it looks great and is a great start. The findings have been moved to the counter by the window to try to alleviate the "gridlock'" that occurs at the back. The crystals are all on one table. The other big table has been completely cleaned up and all the odds have been bagged up and greatly reduced in price. It is looking good !!
So ... check the bins - there are some great bargains on the "last of a kind" beads !!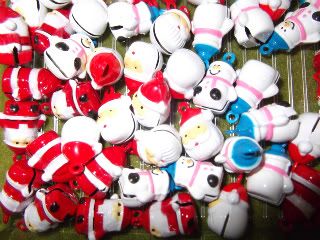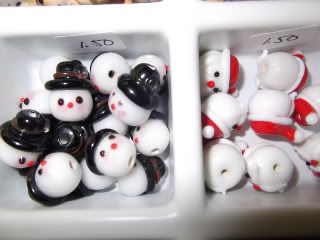 And check out the new things - like Christmas beads & bells - so cute !!! ( we had lots of oohs and aahs as we unpacked them !!) There are also lots of new charms, some new animal & theme beads, and more findings. The curved tube beads are back in stock - a reason to rejoice !!
There will be more beads and beautiful crystal studded spacers next week. I will also have the ordinary things restocked by then - crimps, covers, wire, etc... That will probably be my last order before Christmas ... it's coming quickly.
In "Paper World" it looks a lot like Christmas - the first room is full of holiday paper, stamps, and punches. This really is the last Christmas paper I will have in - I said that last week but I was surprised by another order !!! So, if you want Christmas supplies, get them now. When they are gone ... they're gone !!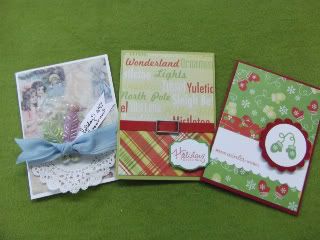 The last kit of the Twelve Weeks of Christmas series is also ready this week. And, by popular choice, it is a card kit ! There are 3 cards in the package , one in a romantic style using Melissa Frances paper and two more using We R Memory Keepers in a more bright cheerful style. For those of you who bought kits 10 or more weeks, I will have a little free kit for you next week !
*Please note that the Melissa Frances card in the photo uses a rub-on while the card has a stamped image. I have MF rub-ons for sale if you prefer it.*
Also, if you are enjoying the kits , they will continue !! I will have a little kit every week ... cards, notebooks, mini album, jewelry ... anything !!
I have decided to leave the Sizzix & Cuttlebug sale on this week ... save 20% on the cutting dies and the multi packs of embossing plates. Great savings and lots of new stock !!
Coming in the next few weeks - loads of great new products from Ranger and Tim Holtz. Oh! The fun we will have with these things !!!
And now ... what about the back counter where the findings used to be ? It will soon be "The ARTIST'S FLEA MARKET". There will be all sorts of treasures that could be used by jewelry makers and scrapbookers ... as well as general crafters.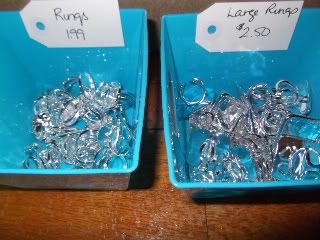 Right now you will find a whole series of new findings to make jewelry using PAPER and other goodies. There are FAB rings and pendants with deep openings - fill them with beautiful patterned papers, squeeze out some Glossy Accents on top and *voila* - a beautiful one-of-a-kind piece of jewelry !!! I will try to get some samples done in the next few weeks. They are going to be amazing !!! AND ... Glossy Accents now comes in small bottles for those who just wish to make a few pieces.
Well, I must go so I can finish cleaning up the tables and do up a jump ring tray ... have a great week and hope to see you !!!