Hi everyone !!
This is going to be short & sweet this week ... I am soon heading out to the feedstore to box up 2000+ chicks so not as much will get done here this week !! But I am trying !!
KIT OF THE WEEK
: This week's kit is birthday cards ... fun, bright, and cheerful !!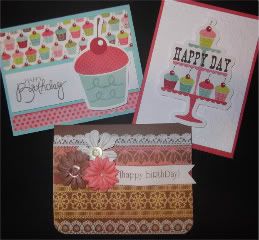 I used some of the new Lime Twist line from My Mind's Eye ... paper & diecuts as well as an older paper from Pink Paislee that I thought was really pretty and vintage looking . (I just see that I
mushed
the cards in my bag this morning ... grrrr...) Anyway, the Cupcake card just shouts out birthday - good for anyone !! The Happy Day card is very simple but I think it is beautiful - I love the combination of the diecut, bright colours, and embossed paper. And last but not least, the lacy vintage style card ... flowers, lace, and a wavy banner ... soft & pretty. You get all the supplies for all 3 cards for $5. Leave a comment here or on the Facebook page if you want any kits saved !!
PAPER
: I have more of the fishing lure paper that I used in last weeks cards. And also some other fishing and Dad paper if you are looking for some for Father's Day or just for the guys in your life !! A few of the Father's Day/ Masculine Birthday card kits are left too.
I have started making a few kits with the Fine & Dandy paper that I showed you last week ... soooo cute. The colours in that paper are great. And someone pointed out how great the BACKS of the paper were for scrapbooking ... and she is right !! Nice small patterns and great background designs !!
I also still have some Grad paper & accessories left ... soon be time for those !!
I also unpacked some new ribbon, a few mini albums, some Maya Road stuff, and Kaiser.
BEADS
: Still have some of those great Father's Day bookmark kits ... easy for the kids to make. If Dad isn't a reader or uses an e-reader, you could always make the charm into a zipper pull or cellphone charm.
I unpacked some strands of beads ... really pretty ... as well as a bunch of replenished findings - swirly earrings, clasps, etc... The swirly earrings are selling fast again !!
Hope to see you this week ... and I'll be back on track next week ...
*peep peep* ...