Hello !!
Lots to talk about !!
BEADS
:
* more magnetic clasps - the nice strong ones everyone likes !!
* replenished on the beautiful Chinese crystal rondelles in the new colours - they sold out quickly the first time !
* and more of the beautiful silver swirly pinch earrings as well as the Beadalon pinch earrings. The "silver swirlys" sold out in one day the first time !!
PAPER
:
*
Fine & Dandy
by My Mind's Eye. This paper is C.U.T.E. !!! It hits all the fun themes ... flags, banners, birds, hearts, stars, numbers, sun & fluffy clouds, cherries (love!!), flowers ... oh so adorable !! The colours are great too - pinks, blues, greens, aquas, yellows ... Sweet !!! The paper is $1 sheet and also has matching stamps and diecuts. There is also some new twine from the Lime Twist line that would match beautifully ... white/pink, white/lime , etc ... Fresh & Adorable !!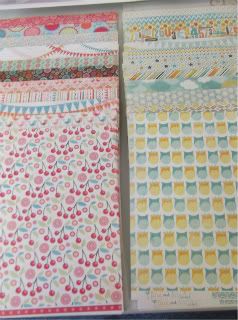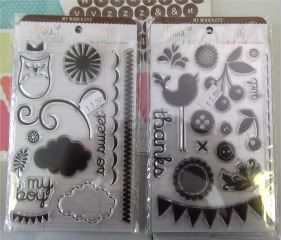 Kit of the Week
...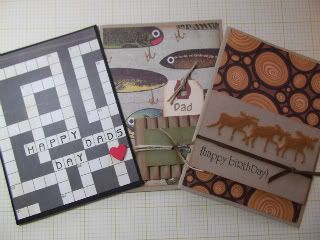 This week the kit is for the boys !! There are 5 cards and 2 different combination kits ... every kit has a fishing themed card that has a reversible tag so it can be Father's Day OR birthday - you choose which way you want the tag to go !!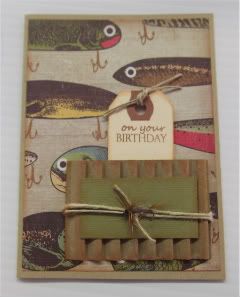 Then there is a wildlife themed birthday card . Those cards are in every kit. The last card is crossword puzzle themed and some of them are for Dad's Day and some are birthday ... it's all marked on the kits. You choose whatever works best for you !! And of course, you can always add whatever tags you want to your cards ... they are yours !! Anyway, all the supplies for all 3 cards for $5.
* There's even a real fishing fly on the card ... barb & hook removed !!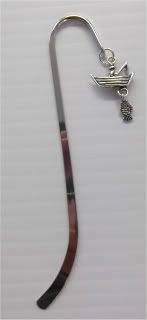 And now a bookmark kit for Dad ... with a choice of charms ... fishing Dad, goalie dad, hockey dad, motorcycle Dad, golf Dad, curling Dad ... your choice ... bookmark, jumpring, charm all for $1.75 !!!
SPECIALS
!!!!! This week only ...
25% off all regular priced stamps
50% off all Frippery Jewelry Kits
wowzas !!!
So drop in, see some great stuff, save some money, have fun !! See you !!