Hello !
Here it is another month ... and there is lots of new stuff to talk about !!
PAPER
:
First, here is the
Kit of the Week
... wedding cards this week. All the pieces precut & hand stamped for 3 cards ... all for $5.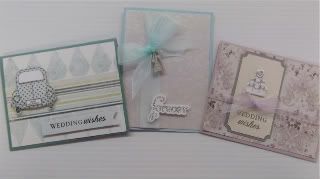 And there's more for weddings ... great new embellishments from Making Memories ... charms & glittered tags. The tags come in packs of 50, perfect for invitations or thank yous.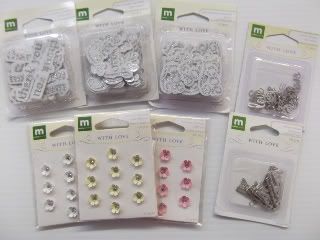 I also have some beautiful Bazzill cardstock that would make beautiful wedding cards . It is white embossed 12x12 cardstock in 3 different designs as well as a pearlized 8.5x11 cardstock embossed with butterflies. Beautiful !!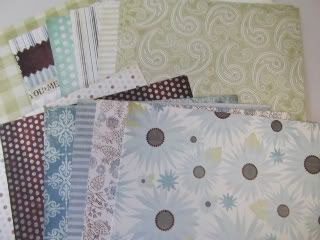 Also paper from Fancy pants ... "Happy Together" ... beautiful blues, greens, aquas, and browns. Perfect for a wedding or anniversary album.
And then there is Graduation ... paper, tags, stickers, diecuts... lots to choose from !!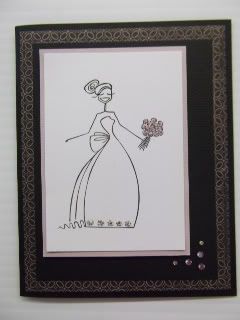 Here is a little sample card using Stamping Bella's
Sposabella
stamp ... I think she's so cute !!
New stamps from Inkadinkadoo .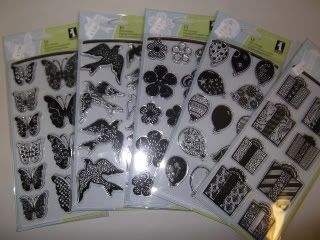 Watercolour pencils ... I LOVE THESE !!! I have never liked colouring stamped images ... but I am coming around thanks to these gems !! You stamp your image, colour with the pencils (easy peasy !!) and then using a small paintbrush, you apply a little water ... it looks like you PAINTED the images. Crazy about them !!
And my new favourite item ...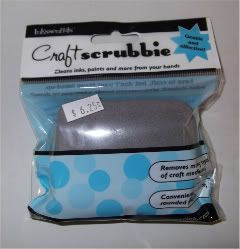 Craft
Scrubbie from Ranger Ink ... this thing is amazing !! When I was stamping the tags for this week's cards, I managed to get my hands COVERED in black ink. I didn't want smudgy fingerprints on the white paper so i went to wash up. Ink doesn't always come off that well ... and it didn't this time. Then I remembered I had a craft Scrubbie so I opened up and tried it. INK WAS GONE IMMEDIATELY !! I was amazed !!! You will love this product !!
BEADS
:
* 3.5mm suede lace in various colours ... even pink !!
* new cathedral beads, also in AB colours - so pretty !!
* more tiny peacock flats ... beautiful !!
* tricuts & pear shapes
* new bracelets & bezels - fill with whatever you wish !!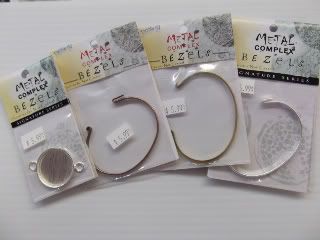 * coloured Beadalon
* restocked : non-tarnish silver wire, magnetic clasps, memory wire, tools
* Pinch Bail Pliers ... easily close those pinch bails.
* Beadalon earrings ... these are so easy !! Simply take drops that are drilled through the top, squeeze the bail, and VOILA !! A beautiful earring !!
(
sorry the picture is so blurry ... you get the idea !!
)
NOTE : there has been a BIG increase in sterling silver prices. The last bags of leverback earrings I unpacked were $10 more per bag !! So I have a few bags left at the old price ... if you use them often, this would be the time to snatch them up !!
And that's just some of the new stuff !!! Drop in !!