UPDATE : Just unpacked 12x12 Christmas paper pads form DCWV ... special price $19.99 ... cost per sheet ? Depending on which pad you choose anywhere from 11 cents per sheet for the lighter paper to 38 cents for the heavy foiled paper. A great bargain. Excellent for Christmas cards & crafts.
Also Christmas cameos from Webster's ... only $1 each. Pretty !!!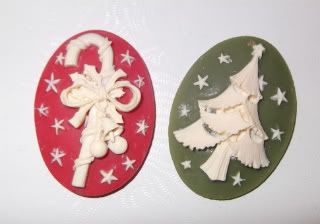 Hi !
Hope everyone had a good long weekend and enjoyed a little turkey or pie ... or whatever makes you say "yum".
I spent the weekend working on the store and I am pleased ... a lot was accomplished !! I have added 6 sheets of pegboard and 5oo peg hooks in the last two weeks !! And I have now officially run out of peg hooks so that's all I can do until I get more !! (But ... don't tell anyone ... I also ran out of energy so I wasn't all that sad to reach the bottom of the box !!)
So ... there is still a week or two of work left and then the scrapbooking part will be done !! I'll start the beads in November ... I need a weekend in between !!
I have finished the following sections ...
1. Sizziz & Cuttlebug wall
2. 8.5x11 paper rack
3. all patterned paper in the same room
4. stamp wall ... all stamps together except for a few baskets of little ones.
5. Christmas stamp wall ... and the counter below is where you will find all the inks,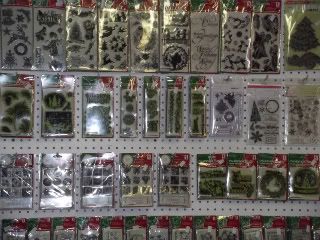 markers, cleaners, and stamp blocks.
6. "Creativity Wall" ... this is where you will find all the products from 7 Gypsies, Tim Holtz, Pink Paislee/House of Three, Maya Road, Canvas Corp, Ranger, and Heidi Swapp. There is also a "Mistables" section with all the new Pink Paislee products that can be inked and misted. Next week I will have a shelving unit of all the Ranger, Tattered Angels, and other products that you need to get messy, right beside all the Ranger papers, tags, foils, and canvas.
The Canvas Corp products are new ... actually the company is new to me anyway. They carry wonderful Chalkstock ... yep, chalkboard paper !! ... in sheets as well as tags. I also have their cork, corrugated products, tags, tissuestock, mini envelopes, mini bags, clothespins, and hemp & twine. Lots of fun products !!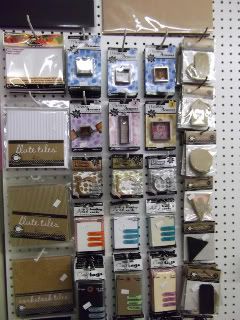 7. Adhesives and Punches ... all organized and together !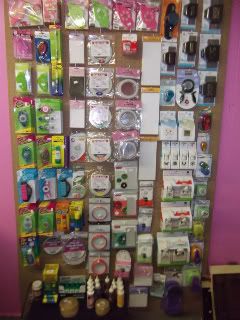 So I am pretty happy ! I have an embellishment area to do as well as the "Flea Market" of goodies and a scrapbooking/jewelry cross over section. And organizing the 12x12 cardstock. Then a big sigh of relief and I will start revamping the beads. Exciting !!
BEADS : the silver non tarnish wire has arrived ... I'll dig it out this afternoon. And I promise I'll be back on "bead track" in a week or so. New products and projects then. In the meantime, don't forget to pick up a few skull beads for some Hallowe'en earrings !!
PAPER : I also have some new paper products this week ... actually quite a few ! There are new items from Tim Holtz, 7 Gypsies, Maya Road, Pink Paislee Mistables, Tim Holtz Kraftcore cardstock, and new stamps. New embellishments in the paper room. New Sizzix. hmmm .... I can't even remember it all.
I just put out Jillibean Soup's new Christmas Eve Chowder line. This is a really fun whimsical Christmas series ... pinks, reds, greens ... penguins, flowers, trees, words ... loads of giggles !! Unity Stamp Co even has a matching penguin stamp.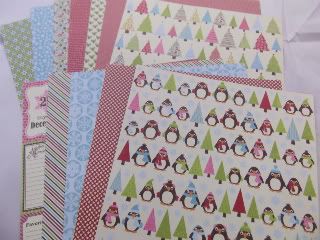 More Hallowe'en paper ...Retro style paper from Karen Foster as well as gorgeous flocked black on kraft from My Mind's Eye.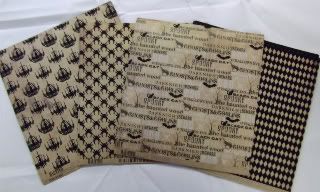 KIT OF THE WEEK : And , speaking of flocked Hallowe'en paper .. that's what I used in this week's kit. The kit is 3 cards ... all the materials precut, stamped, and ready to use ... for $5. I know some of you are not fans of Hallowe'en ... bear with me ... there will probably be a few more kits and then back to Christmas !! I just can't resist ... Hallowe'en is my FAVOURITE !!!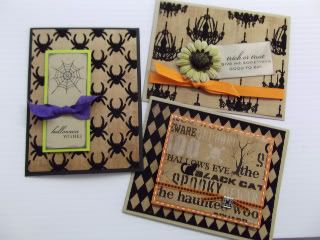 ( I just realized that one of the cards is like the one I did last year ... OOPS ... just give it to someone else this year !! )
And here are a few banners for you before I go ... the top banner is made with a Pink Paislee kit ... just $5.99 ... and I added black cardstock, tulle, and a few crystals and sparkly bits. The second is a kit I designed last year and I have a few kits left.
Banner Kits are SOLD OUT.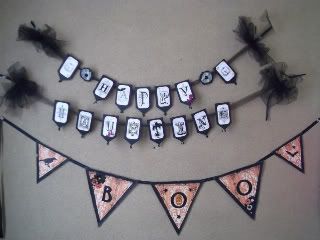 Well, that's it ... I must go clean up the boxes and debris ... have a good week and hope to see you !!!