Hi everyone !!
I have more Hallowe'en goodies ... I just love Hallowe'en so much and I can't stop !!! But next week I promise I will be on to Christmas projects ... and I have some super cute ones lined up !!
So ... let's get started !!
KIT OF THE WEEK ... okay, there are 4 !!! I told you I love Hallowe'en !
1. Candy Tubes ... $5 ... supplies (except candy !!) to make 3 candy tubes ... paper, labels, ribbon, and tubes. I think this has potential as a Christmas project too !
*** Candy Tubes are SOLD OUT ***
2. Treat Bags ... I put mine out from last year & had lots of requests so .... here they are !! Every kit will be different - I raided my stash of Hallowe'en goodies ! So you will get paper, stamped tags, tag backers, and bags for 6 little treat bags for $5. You supply the candy corn !
3. Gift Bag/Treat bags ... $5 ... you will get all the supplies to make a big gift bag as well as a large treat bag. And as a bonus, you'll get 2 small embossed treat bags, ready to fill !!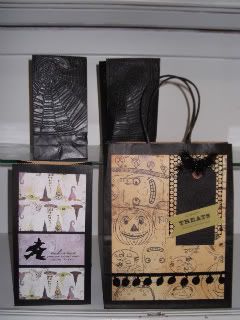 4. NO FRILLS CARD KIT ... this is a quick project that is quick for me to assemble, quick for you to make, and inexpensive ! You get all the supplies but no photo or directions BUT they are super easy cards. AND you get SIX cards for $6 !! You'll get 6 cards, 6 background papers, 6 cardstock mats, and 6 stamped focal images. Just mat the images, adhere the background paper to the card, and attach the focal image ... I would suggest you use dimensionals for the best effect !! Ta Da !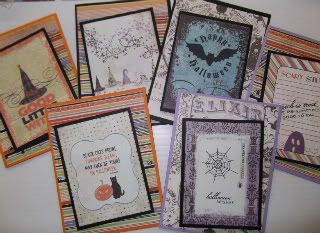 Some of the kits are in limited supply so let me know if you want any saved !!
And now for other news ...
BEADS : I have been unpacking a BIG box of beads and just received another today. So far I have lots of beautiful Dragon's Blood Jasper, Red Creek Jasper, African Map Jasper, and Labradorite in varying shapes and sizes ... small beads to pendant size !!
I am restocked on non-tarnish silver wire as well as stringing wire.
Lots of 8"strands of new firepolished and glass beads ... beautiful !!
And here are a few more things ... wire guardians, crimp covers, crimp tubes, neckchains, freshwater pearls, glass letter beads, containers. And more to come !!
PAPER : Today I re-do the ribbon section and the "Let's Get Messy" section !! Look for new Ranger products and fun glitters, embossing powders, and more.
And speaking of Ranger products ... here's a quick little project I did using the large Ranger manilla tags , Distress Inks, a few stamps, and some torn fabric strips. It was a lot of fun !!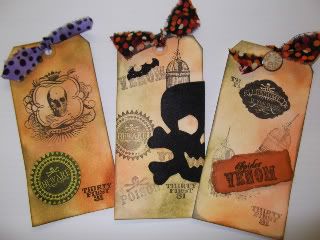 I made up a few tags of the fabric strips as well as a beautiful brad, a Tim Holtz paper clip, and glass letters to spell BOO ... all to embellish your Hallowe'en projects !! $2.50 per card.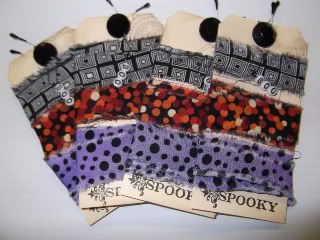 And I have a few of the embossed black tags left over from the kits. These are the Ranger black tags run through an embossing folder ... make your own or buy them already made. $1.99 for a bundle of 4.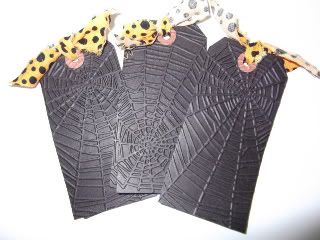 I am also constantly adding new products to the paper/scrapping sections ... and I think a box of Tim Holtz products just arrived .... hopefully I will have time to get it unpacked !!
oooohhh ... I just peeked ... Grunge Books, more Adornments (good since I sold out of the Hallowe'en ones), Tissue Wrap and more. I also know that a box of his District Market product has also been shipped !!!! That means tote bags, note cards, journals ... yay !!
Well ... that's it for now ... I'll add as I get things unpacked & finished up. Stop in this week and see all the fun stuff !!