Hi everyone !
I am finishing the last of the scrapbook/paper renovation and am happy to see the end. In November I will start re-organizing the beads & supplies . Looking forward to that too !
SALE !!!
So in the process of rearranging & sorting, I have found "stuff" ... "stuff" that needs to find a new home so I have a 40% off table.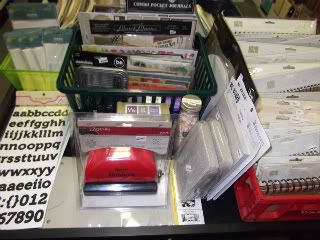 There are Melissa Frances chipboard books starting at $2.50 (so that would be only $1.50 ... do them up to make great little gifts !!) , stickers, rub ons, chipboard shapes & letters, flowers, kits, ... and whatever else gets added before Thursday !!! A 7 Gypsies Binderie Punch ... I love mine !! And remember, chipboard letters can be inked, sprayed, painted, glittered, or covered to be whatever colours you wish, so if they are cheap enough - buy them !!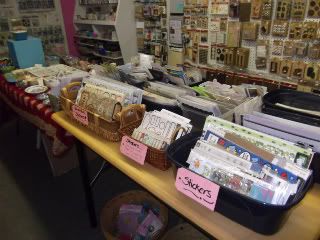 So now all the rub ons, stickers, die cuts, etc... are sorted into bins. I could not stand those spinners !!! They always bumped into things on the table so they are gone !! I think it is easier to leaf through bins. I hope you think so too !! There are just too many to peg and hang.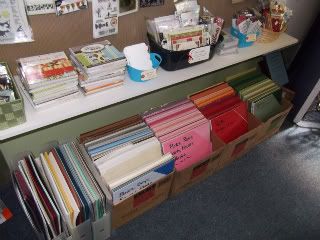 All the 12x12 cardstock is now in boxes in the first room by the patterned paper so you can match it up. It is all in boxes and sorted by colour. And it is still 65 cents a sheet or 50 cents if you purchase 20+. I would love to have it all in racks but racks are sooooo expensive and I would rather buy more paper ...;) !!! ( the 8.5 x 11 is also sorted in a rack in that room ... 50 cents a sheet or 40 cents if you purchase 20+) And yes, the 20+ price can be assorted colours.
All the mini albums are together, all the albums are together, and the refill pages have all congregated on a shelf too !!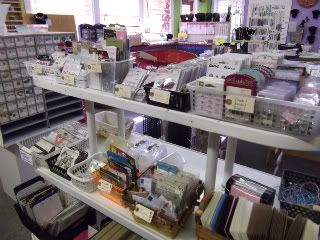 Brads, Bling, and Buttons all in cozy little baskets, hanging out together in one spot !!!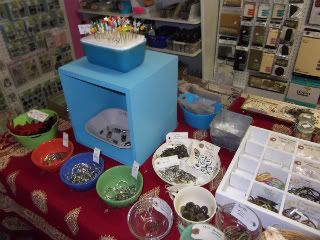 All the little odds'n'ends ... bits'n'bobs ... that make projects so fun are stretched out flea market style at the back. Browse the little bowls, tins, and trays, picking up lots of little treasures !! No need to buy a whole package if you just want a few !!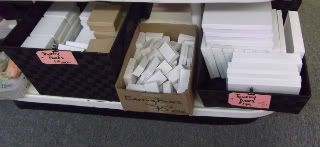 All the packaging products together in one spot ... tags, jewelry boxes, gift bags, Chinese boxes, Pouches ...
Ribbon, wire, cords, hemp ... in the same spot. Soon all the stringing supplies will also be in that same area. Soon !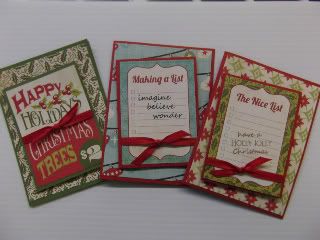 KIT OF THE WEEK !!
I didn't think I would have time to get one done this week ... but I really wanted one so I put together a fairly easy Christmas kit this week ... 3 cards with everything pre-cut , pre-stamped, and ready to assemble ... and this time it includes as a BONUS the dimensionals needed to assemble the cards. Just in case some of you don't use them ... I really want you to see the difference. Yes, it's true ... I
♥
dimensionals ... !!!
BEADS : I am in the process of getting all the parts for the Christmas earrings & pendants ... watch for them in the next few weeks. Swarovski Crystal Christmas trees, pearl snowmen, crystal angels ... and maybe something else (I am trying !!) . They all make great gifts !! And all well under $10 per kit !!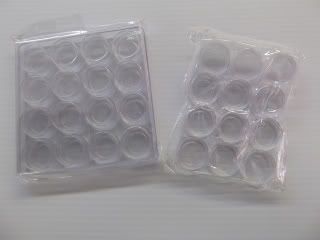 I have some great little organizational containers for beaders.
SILVER PLATED EAR WIRES : I am out of stock and so is my supplier !! YIKES !! But they are expecting more at the end of this week and will ship them out to me first thing next week. So sorry for the delay !!
PAPER :
* organizational items ... ribbon holders, and unmounted stamp baskets with refills. (love these !)
*
*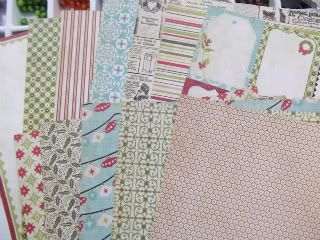 Echo park "Season's Greetings" .... I used it in this week's kits. The photo doesn't do it justice ... the colours are rich and very vintage. Gorgeous !!