Hi !! Well here we are at the Thanksgiving weekend ... hard to believe it's here already !!
So by then end of today ... whenever that happens !! ... I will have filled a wall in the first room with accessories to the paper that is in the racks ... stickers, brads, die cuts, embellishments. So you can choose your paper & then see what is available to go with it. The stamps are being moved - all of them - to a bigger space at the back of the store . They will all be in one place ... and by next weekend the ink & all the stamping supplies will be there too. For this week , there will be boxes in the back ... Maya Road ... waiting to move to a new spot. Sorry ... can only get so much done each week. I am looking forward to an extra day this weekend to borrow someone a little stronger than I am to help me move the shelves and tables. Next week it should all come together !!!
Here is the Kit of the Week !! It's a gift bag and 4 gift tags.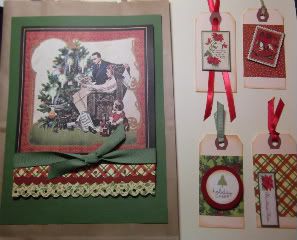 There are 4 different gift bags ... if you want a kit saved, let me know which one you would prefer.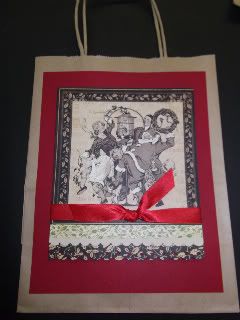 Sepia Family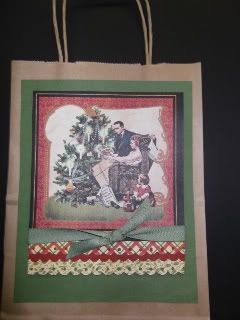 Green Family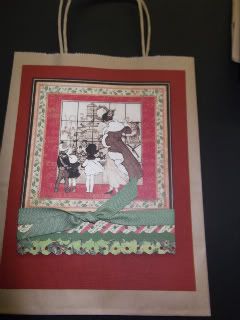 Red Family
Blue Family
The supplies - precut & prestamped- for the bag & tags are the usual $5. Maybe you should collect all four ? !!
And here's a few quick Hallowe'en projects ... they are made using the Tim Holtz Hallowe'en Words stamp (he also has a Christmas one) . The first is on a decorated gift bag while the second is stamped right on a plain paper lunch bag. Both would be pretty great filled with treats !!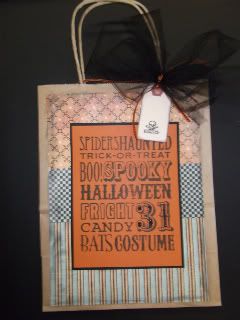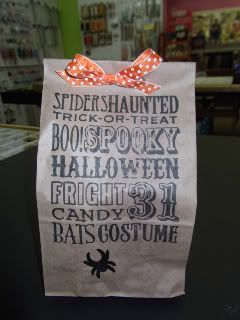 I am working on a Hallowe'en banner and will post pictures as soon as I finish it ... it's really cute and quick. The basis of it is a Pink Paislee kit for $5.99 and I just added some black cardstock, tulle, and a few crystals. I like it !!
Well ... that's it for this week . I need to get those two walls done and package up this week's kit. By next week the paper renos will be done and I will start on renovating the bead area. I also have a few great projects up my sleeve for the beaders !!!
Hope you all have a good long weekend and a great turkey dinner ... enjoy a piece of pumpkin pie too !!!