Hi !
I have been getting in so many great new products and have really enjoyed trying them out. I try to created every day ... even it is just an hour or so ... even if it almost the next day ... whatever ! It all works !! I find it keeps me happy & feeling full of ideas.
So let's get started with what's new this week ...
PAPER
:
* Graduation paper & stickers. Beautiful dignified paper and some amazing stickers . I used the stickers on the bags in this week's kits. They are stunning - they could easily be framed as amazing words of advice.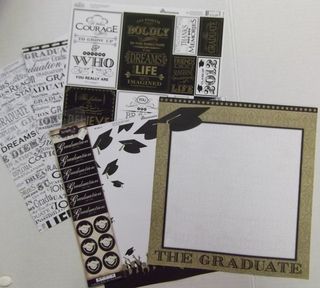 * more new stamps
* more distress ink pads in stock.
* Tim Holtz Distress Markers ... now available individually !!! Remember how I had a deal on the sets last week ? Well I have a deal on the individual ones this week !!! They are $3.99 each but if you buy 4 or more they will be just $2.99 !!! Save $1 each !
* masks & texture paste. What do you with texture paste ? How about this ...
This is a canvas I did using Christi Tomlinsons' She Art Doily mask ( got 'em for sale !), texture paste, paint, and other She art products. I sell all the supplies here ... canvases, brushes, paints, masks, paste, tissue, stamps ... It was a really fun piece to do and I can't wait to do more !!
* I will be working on another video over the long weekend. Keep watching !!
BEADS
:
* CHARM LINKS BRACELETS are back in stock !!
* also back in stock : memory wire, ring memory wire, silver plated non tarnish wire in ALL sizes.
* bulk crimp tubes and size #0 crimps
* Agate facetted large beads ... beautiful !! They look amazing strung as a bracelet using the spacers included. I'll try to add a link to the one I saw !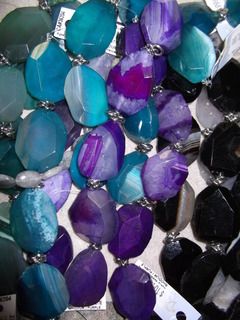 JUST IN !!! Chinese crystals in strands from $1.99 to $4.50. Briolette, round, and rich cut. I am very impressed by these beads !!!
* summery shell and mother-of-pearl beads in all sorts of glorious yummy colours !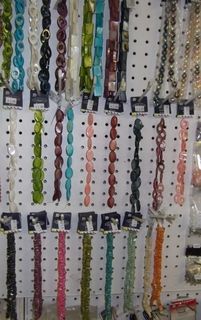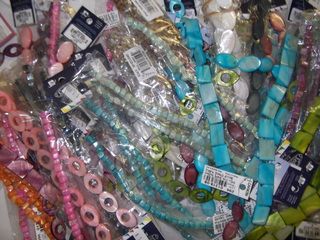 * abalone pendants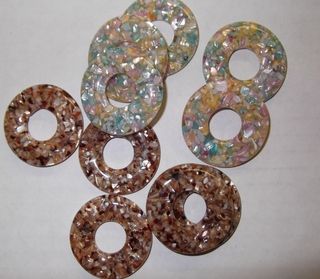 * 10mm, 12mm mixed M.O.P. beads ... so pretty !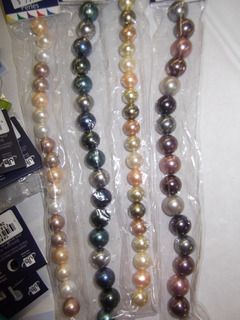 * cleaning cloths
* 1.5mm leather cord in 6 new colours : teal, grey, khaki, red, brown, turquoise
* cutters
* new Art Wire eggshell coloured wire and stainless steel
* mesh
KITS
:
Paper kits ... 2 this week.
Kit #1...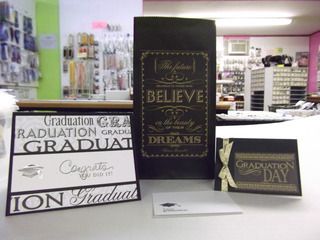 Graduation Gift bag, Tag, Card ... all the supplies ... $5
Kit #2 ...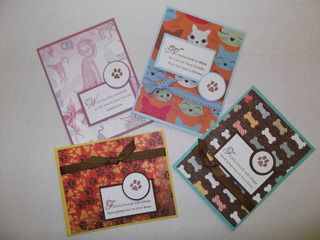 Sympathy on the Loss of a Pet cards
The kit makes 3 cards like the ones pictured. The papers & colours vary in each kit but the designs are the same. Check the label on the kits to see if the cards are for cats, dogs, or either. Supplies for 3 cards ... $5.
Jewelry Kits ...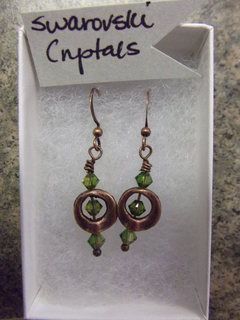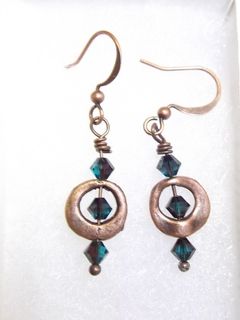 Earrings using a cool round metal bead & new Swarovski crystals. They come in antique brass and the new ferngreen/topaz mix crystal OR antique copper and the burgundy/blue zircon mix. Supplies and a picture for $2.25 pair.
Last week I told you I had metal blanks from Metal Complex ... and I do ... lol ... but they didn't work in all the applications I had hoped. So I have placed an order with Vintaj and it is on it's way ! I am super excited as they carry the most amazing products. So ... I should soon have some samples for you involving Sizzix embossing on metal as well as a whole bunch of other techniques !!
So ... lots of new things and new ideas. Hope to see you ... stop in for some crafting supplies for the long weekend. Make something great & enjoy the holiday !!