I am so happy to be typing up this blog ... it means I am finally sitting down ... heehee. This has been a super busy week with long days. I finally bit the bullet and started doing the face-lift in "Bead World". Everything had to come down off the walls and be re-organized or moved. I have it almost done - I ran out of the new peg hooks so I will have to leave a few sections until more arrive. But I got a lot done & am really happy about it !
This will be a brief post as I still have all the signage to get done for the new bead sections ... so hang on - I am going to be quick !!
PAPER
:
* Tim Holtz Distress Markers are here !!
I received a few sets ( and will have more in a while) . these initial sets I am offering for $100 per set. Individually the markers sell for $3.99 and the tube/case is $5. So 37 markers would be $147.63 if bought individually. A great deal if you would like the whole set !! If you want one, let me know. I will happily set it aside. My only request is that they be picked up this week.
* restocked on Distress Ink pads ... *hint* ... they will be featured soon in another video !
* great Father's Day/Dad stickers.
* I am unpacking some really fun texture products ... watch for them next week !
* coming soon ... Art Chix !
BEADS :
* newly organized beads ... much easier to see & choose from !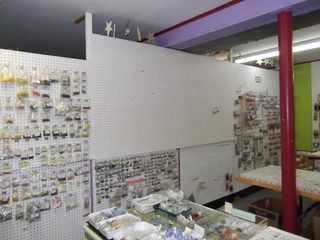 But before it gets better ... it has to get worse !! LOL. It all had to come down !!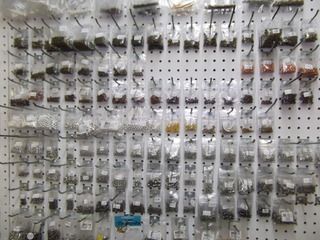 All the metal spacers, caps, and beads at eye level in one place ...and sorted by colour !!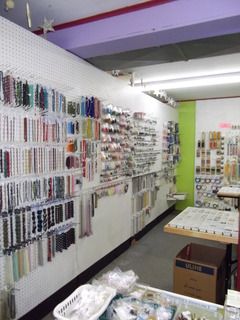 Starting to come together ... and I have gained so much space !!
Findings together ... and small bags below bulk bags ... easy !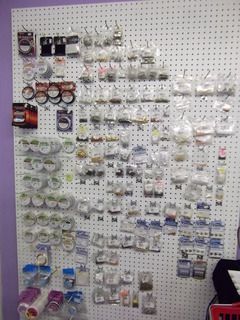 Stringing supplies all together .. wire, crimps, covers, clasps ... * lots of new strands ... glass & metal
* new metal beads in the trays ... great cat faces, curved ornate tubes, spacers, bails, etc...
*METAL COMPLEX !!!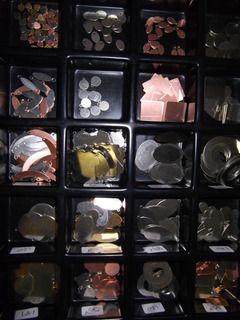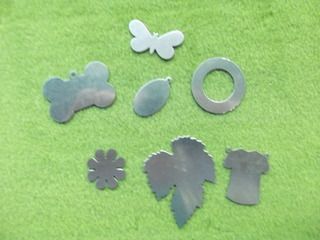 These are really fun ! They are metal blanks that come in a big variety of sizes & shapes as well as in 3 metals - brass, copper, and German silver. You can do almost anything with these. They can be punched /stamped with metal stamps (coming soon !), embossed with embossing plates (also coming soon ... my supplier sent the wrong things !!), patina-ed ( not a really word ??), stamped with embossing ink & embossed, decoupaged ... etc ! In the next few weeks the lost products will arrive & I will get some samples made ... I promise !!
* coming soon ... Art Chix !!
Kit of the Week ...
Sorry folks ... this week really got the best of me ... I ran out of time. Watch for card kits next week as well as a jewelry kit.
Be sure to stop in & see the changes I've made ... and all the pretty stuff I've got !!
Have a great week !