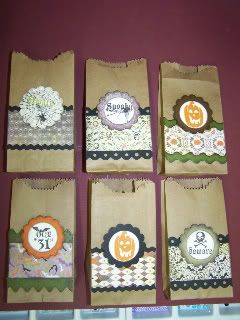 Here's a little kit for Hallowe'en !! The kit makes 6 cute little treat bags - just big enough for a few kisses, some caramels, and a nice big gummy worm !! These bags take no time to make and would be great little treat bags for friends or family ... (
hint
... adults like them too !)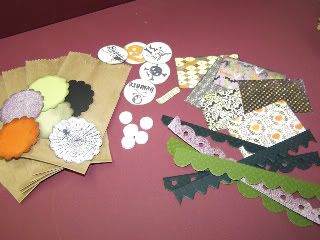 The kit contains :
6 paper treat bags 3"x5.5"
precut, pre-inked paper rectangles
paper trim
prepunched, pre-inked scalloped rounds
pre-stamped theme rounds
pop dots
instructions
All you need to supply are : scissors & a glue stick
.(oh, and the candy for inside ...)
The kits are $4.99. They will be available at the store BUT ... if you don't live near the store, you will be able to buy them in my ETSY shop !! (see the link in the side bar)
Each kit is different but they all contain Basic Grey EERIE paper.
And here's a little update on the 31 day challenge ...
Day 7 : made invitations
Day 8 : stamped cards & finished invitations
Day 9 : stamped with my new stamps !
Day 10 : started an album about our corn maze visit
Day 11: sorted & organized projects ... this one may be a bit of a cop out ...
Day 12 : LOTS of crafting !! Made treat bags & the components for kits.