What ?? The 15th already ?? YIKES !! Hard to believe it is the middle of October. I have been working away on Hallowe'en projects but next week my focus will shift to Christmas ...'cause it's coming !!!
Check out yesterday's post for Hallowe'en Treat Bag Kits. Only $4.99.
I have some great new paper things in this week ...no bead stock but last week there was a TON of new beads ...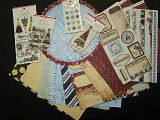 PINK PAISLEE : new Christmas line called Mistletoe & Co.- really nice non-traditional colours with great accessories. And, of course, if you buy 5 sheets of paper you will get 25% off any of the accessories that you choose as well. The accessories include press-ons, brads, punch outs, borderlines, canvas patches, and stamps.
7 GYPSIES : bookcovers, Naked Pockets, Gator Clips, ATC & Photograph Display
SEI : mini ink pads in great colours ... bronze, chrome, ruby, ocean deep , and more
Fancy Pants : Glitter Cuts. They are the transparencies that are embellished with glitter. really pretty. Hallowe'en & Christmas designs, as well as everyday.They add a nice touch to a page or card.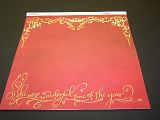 How about that paper ? It is so pretty in real life ... the photo doesn't do it justice. It would be awesome for a family Christmas photo .
We R Memory Keepers: adhesive rub ons with sheets of glitter or flocking. Apply the rub on, put the glitter or flock over top, and the image is sparkly or fuzzy. What a great idea !! I have some that are especially made for greetings on cards as well as images.
MORE INEXPENSIVE STAMPS : Prima, We R Memory Keepers, Imaginisce
DOODLEBUG : Headlines ... adhesive titles for pages ... only $1 each !
LITTLE YELLOW BICYCLE : Hallowe'en products - felt stickers, clear cuts, and rub ons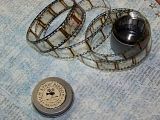 TIM HOLTZ: OKAY !! I am so excited by this stuff !!! FILM STRIP RIBBON !!! It comes in a little film strip can and it looks just like film strip. It is so clever and so darn cute !! And the other item is ROCK CANDY - it comes in Distress Paint & Stickles. It dries in chunks so that it looks like rock candy or sugar crystals but it is clear so whatever is underneath shows through ...oh, so exciting !! There is a good video demo on Tim Holtz's blog. I plan to try it out this week or weekend. Can't wait !!
I am still on track with the 31 DAY CHALLENGE. I haven't missed a day ... yet ! Last night (DAY 13)I worked on some decorated Christmas bags. Tonight I have some stamping & kit production to do. And soooo many more Hallowe'en things to make !!
Have a great week and I hope to see you !!