Oh, there are some great new things this week !!
BEADS: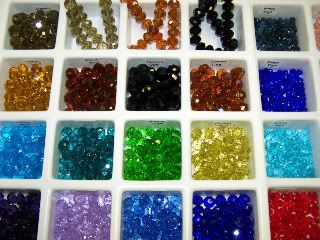 CRYSTALS ... lots of crystals. I have brought in a whole line of Chinese crystal. I have the briolettes in sizes 6mm, 8mm, 10mm, and 12mm in many colours. They are actually REALLY nice. I wasn't as impressed with some of the other shapes but these had that familiar sparkle that we love about Swarovski. The nice thing about the Chinese crystal is the price ... 6mm are .25 (compared to .65), 8mm are .50 ( compared to $1), 10mm are .75, and 12mm are $1 (compared to $2.99). So you still get great sparkle at a much lower price ... You can feature them in all sorts of projects now !!!
SEMI PRECIOUS ... beautiful LARGE turquoise beads/pendants, bronzite in various shapes & sizes, Picasso jasper , glass opal, pyrite (Fool's Gold), polished agate nuggets, GORGEOUS polished agate large beads/pendants in beautiful colours. And ... GOLDSTONE in straight goldstone, blue goldstone, and mixed blue & gold goldstone. This is a beautiful combination and I have it in rounds and ovals of various sizes. Really impressive !


BEADS & FINDINGS... new charms, clasps, metal beads, silver lined rectangles, lampwork pendants in various shapes and colours, new tube beads for bangle style bracelets, "noodle" tubes in silver plated instead of Sterling silver. LOTS TO SEE !!!
TREE & SNOWMAN EARRINGS/PENDANTS... I still have earring & pendant kits available.


PAPER :
I am still unpacking boxes from last week and expecting another order today ... so keep checking back !!
DAY 6 of 31 :
I worked on layout & printing of invitatiosn and cards. Tonight is the fun part ... patterned paper, stamping, embellishing !!