I LOVE colour ... if you've been in my house you would know that !! So I have some great new colours in beads & paper !
PAPER:
Here's a great special !!! I have just received an order of American Crafts cardstock ... and I really like it ! The colours are super too. SO ... I am putting on a special !
The cardstock is 65 cents per sheet like Bazzill BUT for this week I am selling
25 sheets for $10
!!! That's only 40 cents a sheet ... you save $6.25 !!! Stock up on cardstock now !!
What else is new ? Well ... quite a few things actually ! BUT ... this is a crazy week with BIG turkeys coming in to our feed store so I have been busy with lots of phone calls etc.. and then the turkeys this afternoon so a lot of this won't - sadly - get unpacked until next week. But I'll get done what I can !!
7 Gypsies : metal knobs & reinforcers, metal book corners, Avignon Chipboard Alphas & Paperclip Dangles as well as Avignon Paper Tape and Tags. Book Covers. Mini Key Sets. ATC hardware ... also great for jewelry !! Receipt Holder for displaying all your great paper treasures. Letterbox Trays.
Bazzill : more cardstock colours ... Whirlpool, Squash ... as well as heavy 12x12 plastic paper. Also restocked on the Simply Smooth cardstock ... great for stamping on.
Impression Obsession Stamps : a really cute snowman series ... and other Christmas stamps
Penny Black Stamps : cute kitten in a mug and a teddy bear carrying cupcakes ...
Prima Stamps : mini stamp sets that come with a tiny stamp, ink pad & tags ... all for $3.49 !!! Cute little owls ,love, bees, flowers .
Unity Stamp Co. : owls & cupcakes !
Sassafras Stamps : stitchery ( makes great borders !), and Song Writers - more borders including letters, a keyboard, pinwheels.
Cuttlebug : embossing folders including the new Clockworks with more to come. Also I have the Cuttlebug Machine - it is $74.99 and comes packaged with a 2x2 die and 4 co-ordinating embossing folders BUT ... I also have ANOTHER set of 4 dies for you when you buy a Cuttlebug !! (who doesn't love a free gift ?!)
BUTTONS : lots of buttons - mixed bags, solid colour bags ... great on cards !
DCWV : great rub on stitch lines in black & white.
Embellishments : keys and more keys, coins, tags, charms.
Zutter : Display-it-All ... back in stock ! And also the Bind-it-All.
PAPERBAG ALBUM KITS
: I finally got some more made up !!! I pack these kits full of fun items ... 3 punched & folded paper bags, 12 sheets of pre-cut paper, smaller matching paper for embellishments, diecut tags & labels, punched shapes, ribbon, brads, buttons, flowers, punched borders, embossed paper, tags, and the rings. All you need to add is a glue stick, your photos, and your words !! Here are a few pictures to give you an idea what is in the bag ... also includes an instruction sheet & binder rings (not shown). The kits are $9.99 each.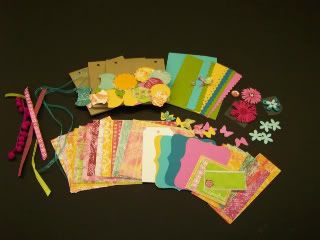 I have more of the Challenge kits ready for those who missed the first batch !!
BEADS
:
I am doing my best to get things unpacked ... we'll see how that goes ...
SEED BEADSsize 10/0 : for all you Peyote people ... lots of new and BEAUTIFUL colours !!
WIRE : I am restocked on much of the Artistic Wire as well as the Beadalon stringing wire .
CRIMP COVERS : back in stock !! HALLELUJAH !!!
Glass Pearls : sage & off white 6mm & 8mm ... finally back in stock !!

And here's where the unpacking really starts ... there will be new product as the days roll on ... it will be next week before I can get it all out but there will be lots to watch for ...
Miyuki Delica size 11/0 vials in 20 new colours
Tierra Cast charms ... 35 new designs ... Where will I put them ???
Charms : 12 new designs
Tiny flat Peacock beads by the strand
New bulk seed beads on size 10/0, tiny flats, size 6/0
Resin Crackle Chunky beads
Strands of beautiful Cut beads, glass beads, flower beads...
I have also just placed several large orders for : crystals, tools, and charms & findings. The next few weeks will be flush with great new things ... and , with any luck, more samples !!