Hi everyone ! Lots of new stuff to share this week ... let's get started !!
BEADS:
I have unpacked 3 boxes of beads this week so there is plenty to choose from including 15lbs of crystals !! Here is a quick list of some of what's new !
* strands of vintage and bright 8mm round beads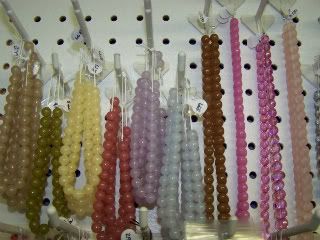 * strands of cut edge beads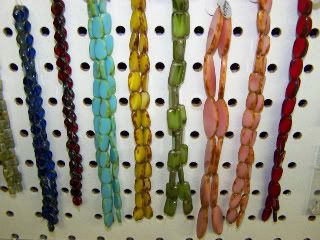 * strands of teeny tiny Peacock beads ... cute & sparkly !!
* strands of mini copper glass beads
* 3 hole spacers in several styles
* more charms ... and more charms...
* large resin beads for chunky jewelry ... but still light. I'm going to try a crazy random bracelet on elastic.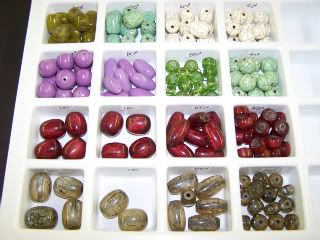 * sparkle crimp covers - by the piece as well as prepackaged - only 20 cents each for the individual ones
* WATCHES and WATCHES and WATCHES ... and are they ever nice !!! Silver, antique copper, copper, antique brass, modern, vintage ... watch heaven !!
* PRECIOSA CRYSTAL ... now these little beauties are the way to go if you need several crystal bicones but not a big bag full. They are strung in little strands and come in MANY colours. And the price point is GOOD !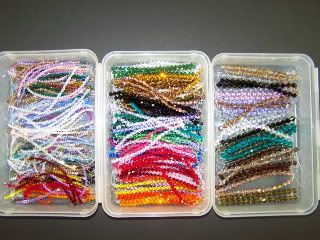 Here is an example of what I have ...
3mm (42 pcs) ... $2.99 to $3.49
4mm (31 pcs) ... $2.99 ... that's only .096 each !!! Compare to .20 each for Swarovski .
6mm (21 pcs) ... $2.99 ... that's .14 each compared to .35 from the Swarovski tray.
5mm (25 pcs) ... $2.50 ... a different size.
8mm (15 pcs) ... $4.50 ... only .30 each compared to .65 from the trays !
10mm (12 pcs) ... $6.99 ... another different size.
I am still figuring out how to display them but for now I have just put them in trays ... can't wait to share them !!
And, in case you are thinking "But they aren't Swarovski ..." , I'll tell you they are every bit as beautiful and come in different colours than Swarovski. I often use these in my jewelry as well as the Swarovski and the Chinese crystal. They are all gorgeous and each offers a different detail to your creations.
* sparkly crossed strand tubes
* tiny ... and I mean tiny ... crystal studded spacers in silver and gunmetal
* beautiful new metal tube beads
* magnetic 3 strand tube clasps
* gunmetal pinch bails
* and MAGNETIC BALL CLASPS ... these are so popular that I sell out quickly ... but I have LOTS now !! I have them in silver, antique brass, and antique copper as well as in small and medium. The magnets are really powerful and make doing up bracelets a SNAP ! I love them and use them on many of my bracelets. I have them individually as well as in bags for a bit of a discount !
And there are more beads, bead caps, and findings still being unpacked. I don't have any samples made up yet - as much as I wanted to just make things, I decided to was more important to get them unpacked and out so you could buy them !! I hope to have a few pieces made up next week !
PAPER :
Another exciting box of treasures here too !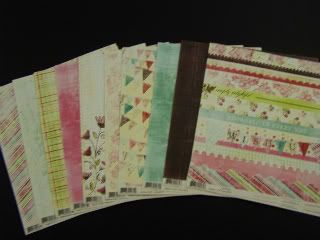 (oops - a bit blurry !!)
* Fancy Pants
"Wishful Thinking"
paper ... this is so pretty ! Double sided. Pale pinks, aquas, greens, browns in celebratory patterns of banners, flowers, stripes, scallops, plaids ... great for summer party pages, birthday scrapbooks and cards, anything happy !!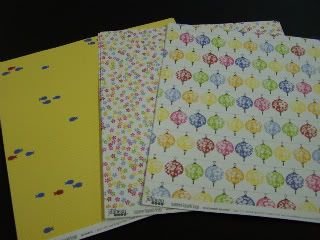 * jillibean soup "
summer squash"
series ... joyful colours and designs ... pink, blue, yellow, orange, red ... party lanterns, flowers, and sweet little colourful fish on a happy yellow background. Celebrate something just so you can scrap a page or make a card !!
* Pebbles "
Tree House"
Collection ... fun strong summer colours ... red, teal, yellow, green, and brown. Birdhouses and flowers as well as the tone on tone backs of the pages and built in trim stripe. Matching Word Stickers.
** These papers are all only $1 per sheet **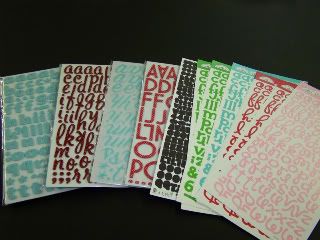 * American Crafts "
THICKERS
" in several different fonts, finishes and colours. These dimensional letters make great titles on pages or words on cards.
* Doodlebug letter stickers ... inexpensive, plentiful, colourful, FUN !!
* Buttons Buttons ... from Hero Arts & Doodlebug. Can you ever have too many buttons ????
* Glue Dots - now these I KNOW you can never have too many of !! I love Glue Dots !! I have mini, pop up, vellum, larger ... they are great !!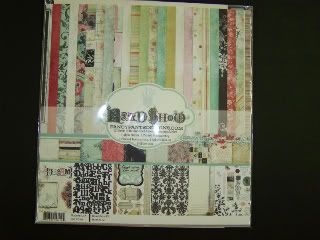 * Fancy Pants
"Roadshow"
Paper Kit . Beautiful kit includes 12 sheets of double sided paper, stickers, alpha stickers, printed transparency, flocked transparency, coloured rub-ons, and glitter cuts. Not to mention how beautiful the paper is ...
* BACK BY POPULAR DEMAND !!! ... the Cosmo Cricket veggie paper !!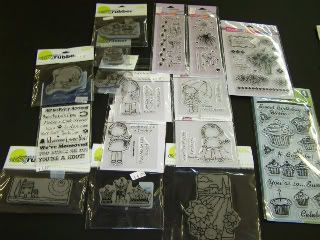 * STAMPS ... more from Inkadinkadoo, Pure Innocence Stamps ( and others) by My Favourite Thing, Stampendous stamps ... lots ! ..., Technique Tuesday.
Oh so many nice ones ...
* Maya Road - Chandelier Trinkets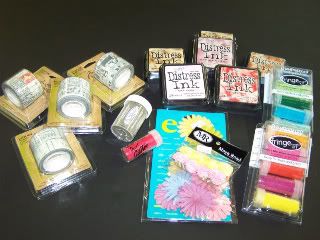 * Ranger - new Distress Inks, more Stickles, Gloss Paper, Brayers
* Stampendous ... in addition to the great stamps I also have glitter, embossing powder, and flocking from them. Great colour kits as well as individual bottles.
* Tim Holtz : AWESOME new tissue tape in 4 designs ... LOVE IT !! Also grunge paper, film strip ribbon, grungeboard, and the Tiny Attacher.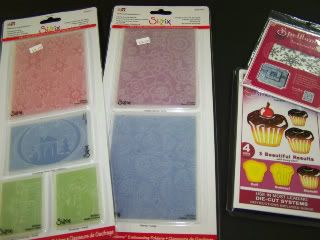 * SIZZIX : great embossing folders !!!
* Spellbinders : Snowflakes Impresabilities, Cupcake Shapeabilities
* Staz-On ink
Again, no samples ... too much unpacking !! Next week !
NOTE :
This week is
COOKIES FOR C.A.P.S.
and I am thrilled to say that Sara Bates is providing cupcakes !!! Many of you have seen her beautiful cakes and - if you are really lucky - tasted them too !! So a very special thank you to her for this wonderful gesture !!
This week is also the last week for
Monthly Challenge
entries. Get them in by Saturday !!
Anyway, Purolator just dropped off 3 more boxes so I better get unpacking !!
Hope to see you this week !!