This has been a crazy and exhausting week ... so much has gone on that I haven't had time in the evenings & on the weekend to make any samples so ... no new projects for you. Sorry ! We have been up all night several nights in the last week with 2 batches of kittens that we found as well as one of our own cats having vet visits and feeling kind of icky. So we have been busy in our real life and that has kept me from getting some of my "store life" stuff done ! Oh well ... next week !!
I have 2 big orders on their way ... one beads, one paper ... but they haven't arrived yet - next week !!
For this week I have the challenge packets ready. These little packages are $1 each. Buy a package, add what you wish, make something fabulous, and bring it in by
JUNE 26
th
. You can enter as many times as you want. And yes, you do get your pieces back !
So here is the bead package ...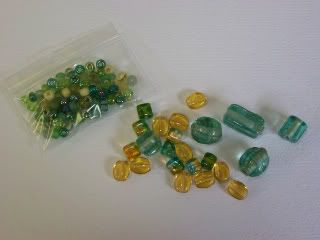 It is a nice mix of watery greens and topaz ... sand and sea. Try to use all the materials that you can. Add whatever you want.
The paper challenge package is next ...
You will get the card base as well as patterned paper, an extra piece of cardstock, and ribbon. Make a card or tag using all the materials in the package adding whatever you want. You can punch, ink, stamp, spray, ... the materials. Be creative !!
There will be a $10 gift certificate for the winner in each category.
Now, since I have no new projects, how about a sale ??
PAPER : save 25% on all OCTOBER AFTERNOON paper & accessories !!!
BEADS : save 25% on all packages of HEAD PINS and EYE PINS.
These specials will be for this week only, on regular priced items only, and ... remind me when you come to the counter !!
Have a great week ... and in the words of Bob Barker "Spay and neuter your animals " ... I can't deal with any more kittens this week !!