ERR ... I am having trouble with my camera/download system so ... so far ... no pictures. I am quite frustrated and have wasted more than an hour of time that I don't have today so I am MOVING ON !!! There may not be pictures this week. Sorry !
(EDIT : I did manage to get a few !! YAY !!)
But there are some great new things that I have put out so I will just get to them !
** SPECIAL - 50yd spools of double faced satin ribbon, 1/4" ... $5.99 **
PAPER :
* some great stuff from 7 Gypsies ... really nice metal book corners , book rings/knobs , mini keys, reinforcers ( metal rings for punched holes) ... these items all come in several metal colours. There is also TONS of new book covers, masking tape, tags, chip letters, fun dangles, and awesome hardware pieces. They are great additions to a project to make a real statement. I am working on a kit for all those of you who would like to try all the different things 7 Gypsies has but don't want to buy whole packages of the items. A sampling of all their great cards, tags, envelopes, metallic bits, tape, etc ... would be fun, don't you think ?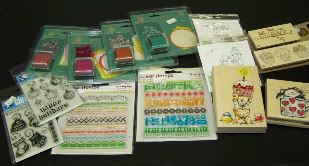 * fun little stamps from Prima - each set includes a little stamp, ink pad, and 3 tags ... all for $3.49. Cute themes too ... owls, love, bugs, pirate owls ...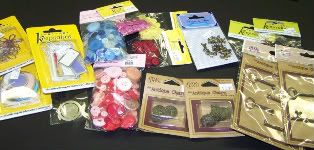 * EMBELLISHMENTS like CRAZY !!! ... buttons in all colours, metal tags, charms, coins, keys in all sorts of style - from plain to super fancy - and in silver, brass, and copper. All these little elements add charm to projects for not much money.
* rub-on stitches ... 15 feet of rub on stitches actually ! These are so cute on cards and pages.(now if you could only hem pants with them ...)
* Heidi Swapp Crepe Paper ribbon ... this is such fun stuff ! You can mist it with Glimmer Mist or other sprays. It is printed with designs but the colour only heightens the effect ! You get 8 20" pieces per package ... imagine the fun !!
* some new Cuttlebug folders as well as Cuttlebugs ! Buy one and get freebies !! More folders and dies coming in a week or so !!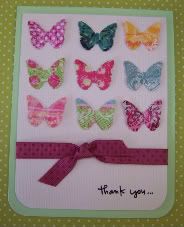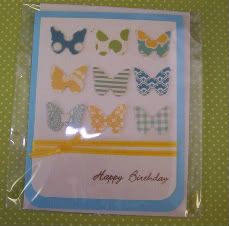 This is a card I have been making lately ... "The Butterfly Card" ... I love it (if I do say so myself ...!). SO I have made up kits for anyone that wants to make one - includes everything you need (prestamped Birthday card base, cream paper, ribbon,butterflies, and diagram) for $1.50 . Or, if you just want the butterflies, I have bags of 20 of them for $1. If you are not a card maker, I have the completed cards for $2.50 or 5/$10. I will also have small gift tags next week.
BEADS :
... 2 boxes full ...
* lots of new Miyuki size 11/0 in great colours.
* new charms ... I see a great charm bracelet in the future ...
* lots of TOOLS ... including great crimpers and Japanese style cutters ... nice
* crystals crystals and more crystals
* strands of AMAZING beads ... my mind is running full speed with ideas !!
* large link chain
* ribbon
* Tierra Cast charms ... ohhh so nice and excellent quality !
* keys and double loop coins/charms ... great for long summery necklaces .
* strands of mini Peacock beads ... silvery & shimmery.
Remember - next Saturday is the challenge deadline ... don't forget to bring your projects in !! Next week is also "Cookies for C.A.P.S." with a special guest baker . YUM !!