I cannot believe that it is already November. October is my FAVOURITE month and it went by in a flash ... I don't think I even had time to enjoy it. I must do better with November !!
Anyway, this has been a bit of a whirlwind week because of appointments in the city so I am a bit behind. (Hate when I lose a day !!) So I am in here doing my best to unpack and get things organized. We'll see what I get done !!
KIT OF THE WEEK
: This week it is Christmas cards made with the lovely, bright, refreshing paper from Little Yellow Bicycle called Wonder Wishes. I love this stuff !! The colours are bright and true. Beautiful !! I loved it so much I made another kit for a later date using it. Just too nice to use once !! So ... you know the drill ... you get all the supplies pre-cut, folded, stamped ... for all 3 cards for $5. Leave a comment here or on Facebook if you want any saved for you (the Christmas ones sell out quickly. I have made more this week but don't wait too long !!)
PAPER
:
The paper
Wonder Wishes
is also available as well as a bunch of really nice embellishments.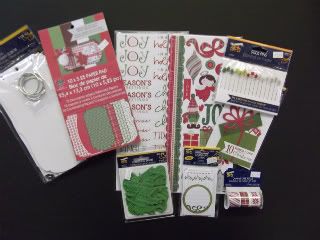 There are some great little journalling tags ... which may show up in a kit *hint hint* ... as well as some wonderful pins, tapes, stickers, mini papers & albums, and card stickers. You will find one of the card stickers in your kit. It is a clear backed sticker with a greeting or sentiment appropriate for a card. This is a great way to make cards if you don't have a lot of stamps ... and the colours match perfectly !!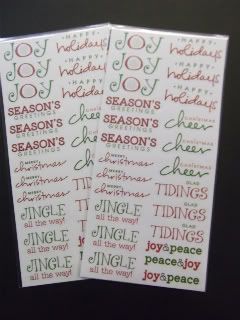 There are 24 stickers in the package for $3.99 - a very economical way to make cards !!
SIXXIZ :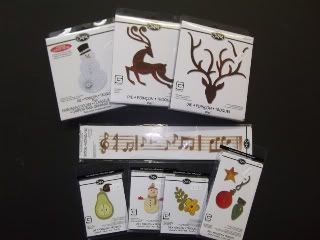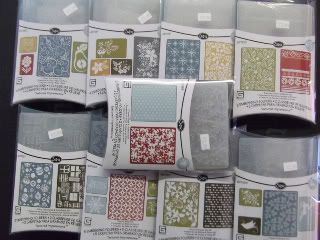 lots of new dies & embossing plates. Some of the embossing packs ($12.99) have 5 plates in them !! And the dies are beautiful ... snowmen, reindeer, music notes, Santa, etc... There is a long thin die of Santa & his sleigh and reindeer that didn't make the picture for some reason ...but it is really cute !! The large Bigz dies are only $21.99. And that little snowman ? He is only $5.99 !! Can't you picture him on all your cards ?!
OH ! And there is a
40% off sale on the Hallowe'en stock
... paper, stamps, embellishments, etc... That's 40% off regular priced items. Stock up !! Then it's ....
booooo
.... gone !!
Don't forget ... the 40% off table is still there ... new things added all the time !!
BEADS
: And this month I tackle the beads !!! There will be a major reorganization and revamp... and I am excited !!
Here are a few bead updates ...
* more mermaid bookmarks in stock
* Christmas charms are coming !!
* had a call this morning that my order is being shipped with the earwires so PLEASE cross your fingers with me that they will arrive THIS WEEK !!
*
Christmas Earring kits
... I have a few and will try to get them out today. More coming week after next !!
* great little containers !
* some really great ideas coming up ... one bracelet in particular that I am realllllly excited about !!
UPDATE !!!!!! Tim Holtz District market product has arrived !!! It is amazing and would make great Christmas gifts !! Note cards, spiral notebooks, tissue wrap, matchbook notebooks (only $2.99 ... stocking stuffers !!) , wall canvases, and ... PURSES !!!!!
The purses are $34.99 and are worth every penny ! Well made, great grommets, magnetic closure, metal feet, pockets, good lining ... 3 styles in stock ... not sure how hard it will be to get more !! I have the Butterflies, Amusements, and Tickets.