Hi !
Hard to believe that there are only 4 full crafting weeks before Christmas ... especially when it seems like spring outside ! But it's true ! I have been burning the midnight oil trying to get out all my Christmas creativity in time ... always seem to still have lots of ideas in January ... a little too late !
So this week I have several paper kits, have a bunch of beading ideas, and more Christmas product. Come on, let's see !
KIT(S) OF THE WEEK :
The first kit is a card kit for bright & cheery holiday greetings. I took advantage of the cute little journaling cards that come with the line from Little Yellow Bicycle and used them for the stamped sentiments. I really feel that all these products make crafting so much easier. And they can be used for more than just their original intent. So your kit will contain all the supplies to make 3 cards similar to those pictured. Each kit is different because of the variety of tags but the concept is the same. The kit makes the 3 cards for $5.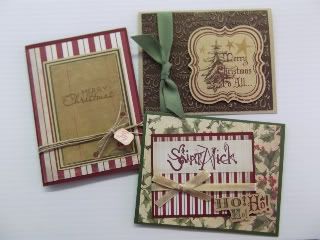 The second kit is vintage in style. I love this paper from Fancy Pants and Kaiser Craft. And the diecuts from Fancy pants are amazing ... such wonderful vintage images. And ..., check out that embossed paper !! That is the new Kraft Core form coredinations and Tim Holtz. I ♥ it !! I ran the paper through the Tim Holtz Vagabond with a Sizzix embossing folder and loved the effect. then I gently sanded the tops of the embossing ... oh my. The kraft colour shows through - it is magnificent !! I have so many plans for this in the future !! You will get supplies for 3 cards for $5. Again, they will differ in colour or die cuts but they are all the same style and beautiful !!
The third kit is for the Wooden Stocking. You will get the stocking pieces, the papers, ribbon, tag, and trims as well as instructions/hints for $5.95. You will need adhesive and a sanding block or emery board. It makes a great decoration to hang. I have packages of the stockings ... why not make one for each family member ? This is also a great way to try the Kaiser wooden products ... it is very simple and you will see just how easy the others could be !! They also make sleighs, reindeer, Advent calendars, family trees, etc ... Wonderful decor items.
PAPER : Okay ... lots new this week !!
* Fancy Pants "St Nick" ... this is a beautiful line of paper & accessories (not that you can tell from my photo ...sorry !)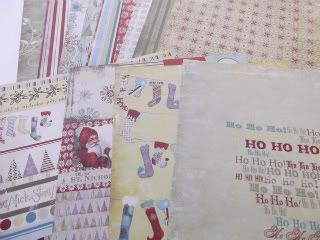 (Check out that page that looks like a leather album cover ... imagine your kids' Santa picture on that . Or maybe they would be better on the Naughty or Nice list ...????)
The colours are beautiful vintage olive greens, cranberry, caramel, grey blues. Beautiful !! I used their journaling cards and die cuts in the vintage card kit. They also produce chalk board label die cuts to match.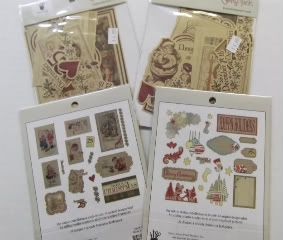 Super cute !! I would really suggest you look at the die cuts - there are 2 different packages - one is more stylized designs while the other is very much like vintage ephemera. You could 16 and 22 pieces in the packages for $4.99. They make wonderful cards ... you get a lot of bang for your buck !!
* UTEE platinum
* Martha Stewart punches including deep edge punches
* more Distress stains
* nice Fiskars 5" microtip scissors ... no packaging so they are AN AMAZING $2.99 !!!
* snowflake inchies set from last year ... they have been discontinued so these are the last sets I can get !
* We R Memory Keepers glitter brads ... DROOL !!
* more Copics, especially in colours for Christmas .
* Tim Holtz is restocked.
*speaking of advent calendars ... working on one for next week ... just in time for the December Countdown ...* Stay tuned !!
BEADS : I unpacked tons of beads & charms this week. The charms are from Tierra Cast and are beautiful. I think they would make great earrings on their own or with a little crystal addition. Most of them sell for $1 each so they would make an inexpensive pair of festive earrings. I also put them together on a necklace. ... hmmm ... imagine a charm bracelet ... or added to a bookmark or cellphone charm .... ENDLESS !!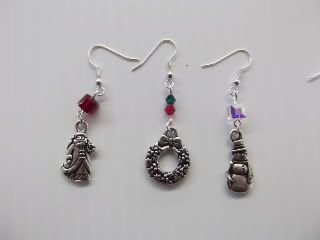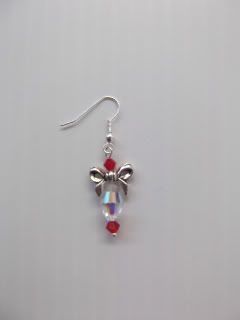 I also ordered in some materials for a bracelet that I saw. I eagerly assembled the bracelet only to hate it !! It was too clunky and .. yuck. So I grouped the crystals in a much smaller design and thought ... "Awesome necklace !!". There is always another possibility !!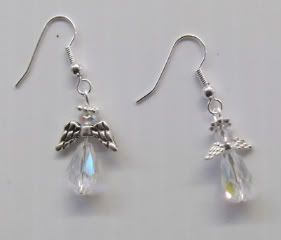 There are a few more angel earrings this year too . These crystal cuties have tiny little metal wings instead of the crystal wings. I think it makes them much more delicate ... they would even be small enough for children. Inexpensive too ! only $3.50 or $4 , depending on which wing style you choose !!
I am restocked on lots of supplies ... wire, earwires, headpins, findings, and more. Lots of Preciosa Crystal strands in Christmas colours for only $2.99 strand. Feathers. Charm rings & charms. Crystals in the new Swarovski colours for winter ... antique pink and denim blue. Wire guardians in all colours. Cellphone charms. Leverbacks. Lobster claws in all sizes. Sterling silver earwires and GOLD FILLED earwires. Split rings. FOLD OVER ENDS for leather !! Yes, I finally found some other styles to replace those that have been out of stock FOREVER !!