Well here we are ... December is a day away . Where has the time gone ? Guess it doesn't matter - it's gone ! Time to get down to serious Christmas crafting & shopping !
So ... what's new this week ? Let's see !
KITS
: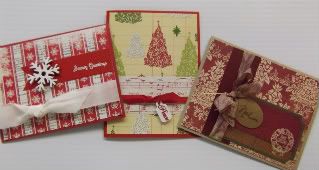 * card kit ... this week's kit uses "
Twinkle
" by Making Memories for 2 of the cards and the last is vintage style paper from Kaiser and Echo park. The third card will vary in the kits but they are all nice. Each one includes hand dyed ribbon and an embossed snowflake. All the supplies for all three cards, ready to assemble ... $5.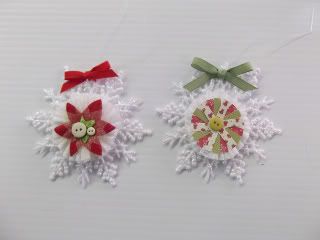 * ornaments ... set of 2. Kit $3.
* wall hanging ... $6.99 kit
The kit includes all the supplies you need including a glittered banner tag AND pre-applied eyelets ! That's right - you don't need to have eyelet tools, I'll apply them for you !
* I still have some Christmas Countdown Kits, December Daily Kits, Ornament Kits and a few card kits from last week ... ( I made lots !!). Let me know if you want any set aside !!
PAPER
:
* Pink Paislee "
Snow Day
" ... super cute winter/snowman paper. Pinks & blues. Fun!
And Pink Paislee's blog will be featuring this paper from Dec 01-12 with a project every day and free printables. BONUS !!
* lots of 12x12 and 8.5x11 paper ... boxes will be refilled. Lots of Christmas colours.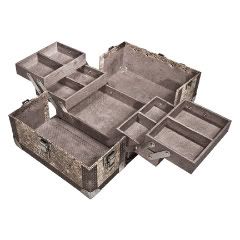 * Tim Holtz Cargo and Trinket Cases are on their way . I would guess that they will be here by Friday.
THEY ARE HERE !!!
Let me know if you want any saved ... they will go quickly and will probably be hard to get more before Christmas. The Cargo case will be $52.99 and the Trinket Case will be $35.99.
Oooooh ... they are so much nicer in person !! Wow !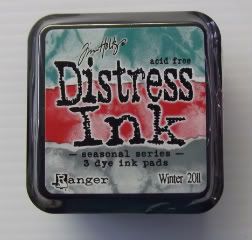 * Tim Holtz Seasonal Distress Ink is here !! 18.99 for a 3 pack.It is a limited production so when it's gone ... it's gone !! Three beautiful colours of ink for your holiday projects.
And you can join in on Tim's blog to make his 12 Tags of Christmas. Starting December 1st. I am sure he will be using the inks !! watch the trailer below !!
* The Christmas paper is really getting down ... if you are going to be scrapbooking your Christmas pictures, I would suggest you get the paper before the holidays ... there may not be any left after !!
AND in the spirit of the season ... for the month of December ...ALL patterned Christmas paper is $1 !!! All of it (unless it was less...).

* Stamps ... last week I showed you samples of the Inkadinkado stamps for this year ... here are a few more stamped images ( I didn't have time to get them made into anything yet ... LOL)...
This set is $4.99 and includes 2 stamps ... perfect for cards or tags.
This set is $6.99 for 4 stamps. I love the cardinal !! I added a little Stickles to the snowman ...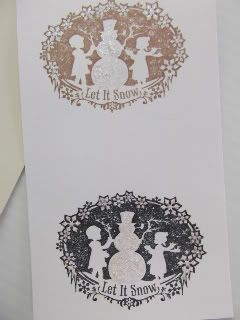 * Melissa Frances stickers ...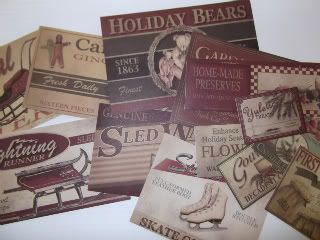 they range from 50 cents to 75 cents each ... all vintage style ads. They are great on cards or gift bags but also will work on jars ... maybe a nice jar of candy ?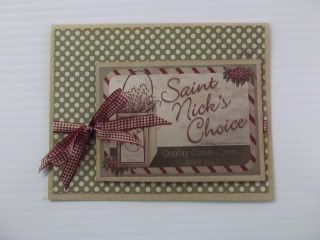 Here is a card I made using one of the stickers ...
BEADS
:
Still unpacking those never ending boxes !!
* gorgeous Cosmic Rings and Ovals from Swarovski. Just pop them on a chain or earring for instant *WOW* !!!
* more long bracelet boxes for your gift giving. Also square boxes, small earring boxes, earring cards ... etc .
* Snowman Parts !! Yes, the snowman earring body parts (crystal or pearl) as well as the sparkly red scarves and black crystal hat pieces. Make your own earrings or pendants. Also really cute on a bookmark !!
* CRYSTALS ... at *GREAT* prices !!! I have strands of Preciosa bicones for only $2.99 strand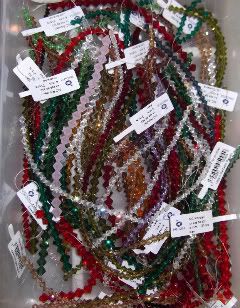 ... lots of lovely Christmas colours too !!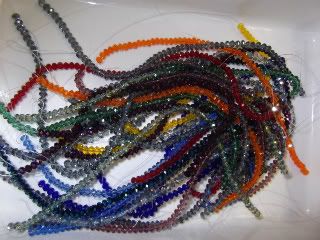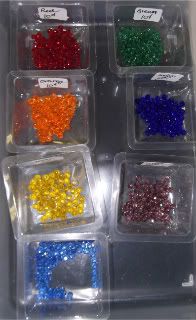 Also, new ... 4mm rondelles. these are so cute ! Just tiny & sparkly !! I have them in Chakra colours individually for 10 cents each but also in many colours in strands of 65 beads for $3.99. They would be amazing in bracelets or earrings !!
* I also have some cool link bracelets ... just add charms. I will try to get them unpacked this AFTERNOON !!
And there is more to be unpacked ... so I am off !!
Drop in !!!