Hi everyone !
Can you believe this amazing weather ?? Wow ! It's hard to wrap your mind around Christmas when it is so warm ... but it's coming and I have projects for you !
This is a tiny week because of Remembrance Day ... I am closed that day of course. But let's pack in what we can anyway !
KIT OF THE WEEK :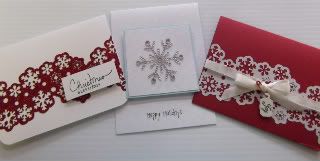 This week's kit is all about elegant simplicity. The cards depend mostly on beautiful embellishments. Bling motifs, glittered lace, and a bit of a cheat for the last card ...*wink*. As you can see, the cards are very simple , easy, but really elegant. The kit contains all the precut, pre-stamped supplies you need for all 3 cards for just $5. I didn't have as much of the material as I thought so I don't have as many kits done as I would like but I have more product ordered so I will have more in a few weeks. Leave a comment if you want any saved. Please note that the centre card's Bling motif will vary from kit to kit ... snowman, reindeer, presents, various snowflakes. All pretty though !!
PAPER :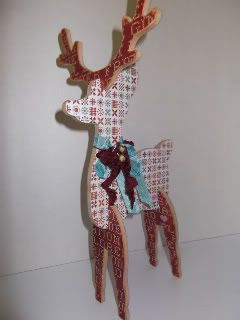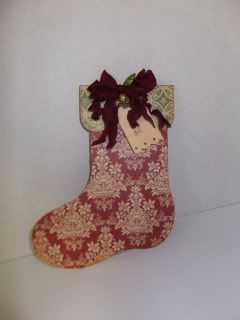 Here are a few fun projects from Kaiser Craft. They make a wide range of wooden products made to be covered. I have reindeer, sleighs, advent calendars, stockings, and more ! Here are a few samples I made this week ...
They are very easy to make ... simply apply a glue ( I used Ranger's Glue & Seal) with a brush, smooth on the paper, let dry. Then trim with an exacto and sand the edges. I used a sponge sanding block and an emery board for the smaller areas. Then decorate !! I added a layer of the glue over the paper so it would seal it and be more durable. Next week I will have kits for the stockings.
... okay ... here's a tip ... you might want to PAINT the reindeer's antlers ... they were a bit of work to sand up ... but actually, even now I think I would still cover them. I love the print !...
And also new this week ...
* We R Memory Keepers "Peppermint Twist" ...$1 sheet ... lots of great additions too ! Tags, stickers, small pads of paper, 12x12 cardstock, advent calendar kit !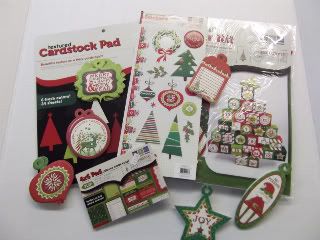 * My Mind's Eye "12 Days of Christmas"...$1 sheet
* Making Memories "Twinkle" .... always beautiful. Glittered & embossed paper.... $1.20 sheet. Also available in an 8x8 package.
* Canvas Corp ... fun Christmas paper, very heavy, and also recipe cards & cooking paper !! AND ... only 65 cents per sheet !!! Can you believe it ?!!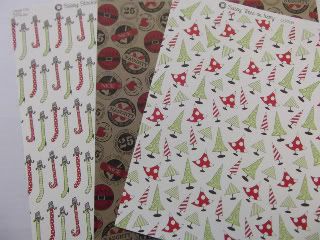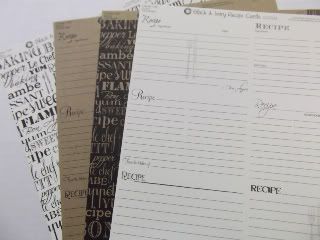 * lily
bee
designs "Jingle" and "Memorandum". Jingle is in such pretty colours ... soft bluish green, olive, and deep burgundy. Beautiful vintage tones. Memorandum isn't Christmas paper but it sure would work ... reds, greens, and creams !!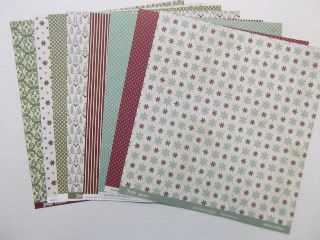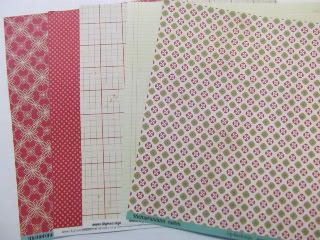 BEADS :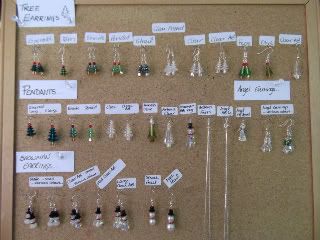 They're back !! The Christmas earrings and pendants. I have some of them out but will still need a week or so to get them all ready ... still waiting for a few pieces. And I have a few new ideas that I hope to work on this weekend. Great gifts !!
I also received Christmas Charms with more to come. They are from Tierra Cast which means quality ... and lovely too !! Watch for some fun projects with those too !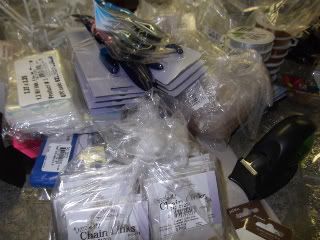 And my order has arrived with earwires, headpins, wire, ... all the items I have been waiting for. YAY !! I will get them priced and out today.
I am working on a new type of jewelry line ... metal punching. This is really exciting and has so many possibilities. The metal discs have arrived but I am waiting for the tools and various accessories. You will be able to make your own pendants and charms as well as having a great cross over with the stamping products because you can use your stamps to ETCH the metal pieces !!!! Like I said the possibilities are endless ... hope to have more news next week !!
Well I am off to unpack beading supplies and put out all the new products and kits. Hope to see you this week !!