EDIT !!!!! Added the December Daily photos !!!
And another edit !!! I have a bunch of the December Daily kits made up & ready to go !!!
KIT(S) of the WEEK !!
I have several kits this week ...
1. Card Kit of the Week ... it's all about diecuts this week. Get all the supplies to make 3 cards for $5.
2. More Card of the Week kits ... from 2 weeks ago !! As you may remember, I ran out of the glitter ribbon and couldn't finish all my kits. Well, I have more now so I have another dozen kits available. $5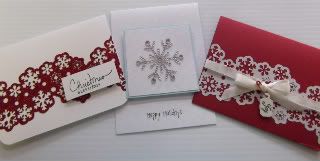 3. Ornament Kit ! This is something a little bit different. You will get the supplies to make 3 ornaments plus a stamp of your choosing to make them with. These are just a few of the stamps available ... 15 different ones. I simply stamped my image and then coloured in small areas with markers. I added a bit of Stickles for sparkle and then assembled my ornaments. They would make nice little casual gifts or tie-ons for parcels. There are also other stamps available for $1.99 if you want more designs. Or buy several kits and get several stamps !! Fun for kids to make too !!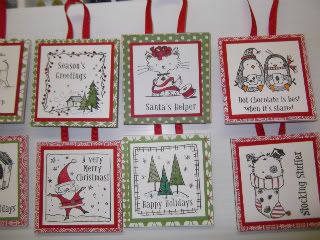 4. This one I LOVE !!! Christmas Countdown Kit. This kit comes with the frame, paper supplies, chalkboard, and chalk. Simply mark each day how many days there are left until the big day !! The frames were made here and vary from kit to kit but all are lovely and "holidayish" !! I only have a dozen of these kits so let me know if you want one !! $15 per kit.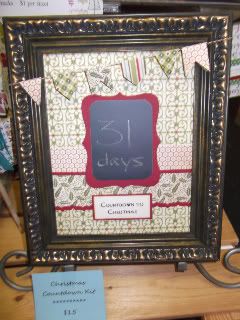 5. December Daily Kits . Do you all know about "December Daily Albums" ? Let me tell you, if you don't ... this has been a big sensation on line. I think the idea comes from Ali Edwards originally. Christmas is more than one day really ... it's a whole season. We all have things that we do throughout the month that add up to "the holidays". The idea is to chronicle those very things and keep a little album of your month. Be it making cookies, shopping, wrapping gifts, hot chocolate with family, etc... Each day you are supposed to snap a photo and write a little bit about the day. Each year you will complete a little album of traditions and holiday happenings. BUT ! The problem is that many people just don't have time to get their December Daily albums ready ... there is just TOO MUCH going on !! So I have made the albums for you !! They are ready to start on December 1st ! The books are bound together with finished covers. You will get a stack of number tags to put on the days as well as journaling cards & tags. Just snap your photo, turn to the first page, add your number tag, choose your journaling tag and write. There will be some ribbon & bits that you can add at the end or when you have time. December Daily Kit : $20 Starting your DD on Dec 1st with no pressure ? PRICELESS !!!
Here is the first kit ... Simple Stories. A vintage style kit.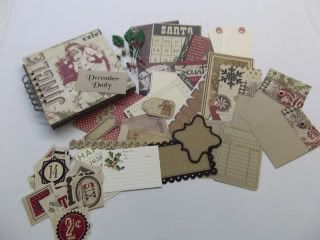 You get everything you see here including the assembled album for $20. Pieces in each kit will vary but they are all great !! Includes handmade grommeted tags, stamped tags, ribbon, stickers, journalling cards, decorative papers, embellishments.
Here's a look inside ...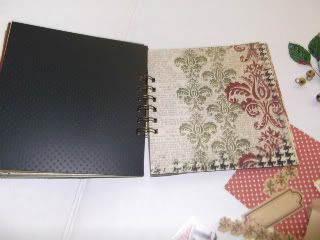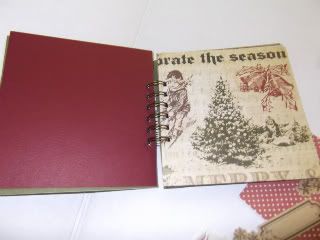 And here's the ribbon ... misssed it in the first photo !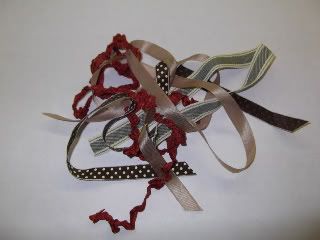 And here's the other version .... Teresa Collins. More of a contemporary style. Bright & modern.
And inside ...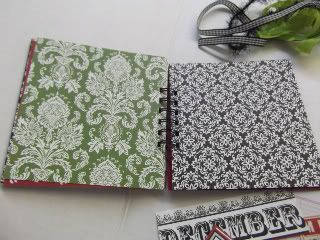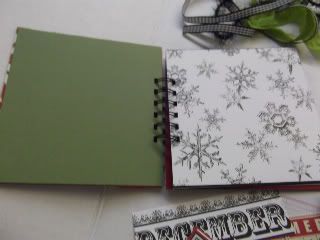 I just have a sample of each made right now ... if you want one, let me know by 5pm and I will make it up for the next morning. I am going to try to get a few extra done up tonight (Thursday)... so many things to do , so few hours ...LOL !!
6. More Wooden Stocking kits ... a few more in various patterns ...
PAPER
:
* Simple Stories "Year-o-graphy" has arrived ! This is an amazing concept that allows you to easily scrapbook and have gorgeous pages. It also works well for paper crafting projects & cards. The paper contains images & icons for the whole year, season after season.
Yearography
And here is a link to see how you can use their wonderful collections !!
Check it out !!
* Inkadinkado Cling Stamps ... I love the stamps they put out this year so I decided to make a few samples so you could see just how nice they are ...
This is their "Holiday Expressions" set .. you get 5 stamps for $3.49 and they are really cute !! Great for on cards or IN cards ... on tags, on scrapbook pages ...
And as a bonus, the new Swarovski flatback crystal snowflakes fit perfectly in the Winter Wonderland stamp !! They are only 40 cents and add real *bling* !!

And this is the "Snow globe" stamp. I like really simple cards so my samples are just that - simple. The first one I stamped in a sepia ink and just added tulle. The next I stamped & embossed CROOKEDLY on a card so I cut it out and mounted it on a card with a simple ribbon. So many possibilities !!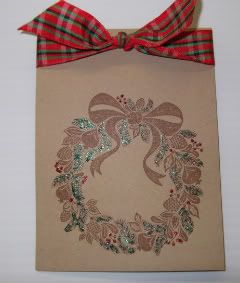 The next is "Folk Wreath" ... I love this on just plain kraft in sepia ink ... but then I got thinking about Stickles , especially my new favourite colour "holly". I just roughly applied it to the branches and then added dots on the berries. Add plaid and it's done !! Both the snow globe and the wreath stamp are only $4.99. There are many others in this series ... great additions to your seasonal stamp collection.
BEADS
: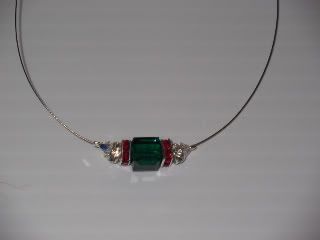 * How about a Christmas necklace ? Here is a sparkly (in real life !! I find the photos so hard to do !) Christmas necklace made with Swarovski crystals. This would make a nice gift !! I have emerald and siam (red) cubes available. They are 8mm and I have 10mm crystal AB cubes too ... for more *bling* !!
* Bookmarks ... here is a crystal bookmark. Lovely cascades of *bling*. I have several colours too ! Or why not make a winter bookmark using snowflake charms ?
Soooo ... that's it for now ! I am trying to get more unpacked and will do my best to have lots for you to see this week !!