Well ... I don't have much to share this week. As much as I didn't want to, I felt obligated to get my books done for 2011 and off to the accountant , so that's what the bulk of my week consisted of (and the week before and every night .... *
sigh
*). So I have just a few quick things to share this week but I promise I will do better next week ... (or I will try, as rumour has it that there are several thousand baby chicks arriving next week so I will be quite busy with that .... ) But I will do my absolute best !!
So here goes ...
JEWELRY :
Wrappers from Artistic Wire are the new thing this week ... and they are really fun and super easy !!
They come in 3 colours ( silver, gunmetal, antique brass) and nine different shapes. You simply wrap wire around the shapes, using the notches, adding beads. And VOILA ! A pendant or earrings. They would also be nice hanging of a mini album or a card. And they are a great price too ... anywhere from 70 cents each up to $1.00 !!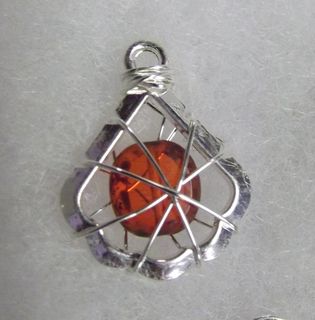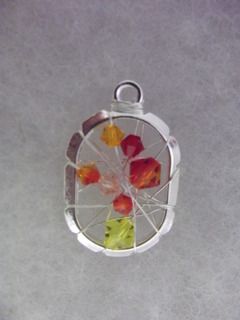 And can you guess what the Jewelry Kit of the Week is ?
Yes ! the horseshoe earrings. You will get all the materials, written AND verbal instructions, everything you need for $2.50 !! Supplies are limited so get yours quickly !
I will also have the other shapes and precut wire so that you can choose a pendant instead ... you pick the beads !!
Oh ! Here'a another kit ... the "Butterfly Dreams" necklace ... I found enough materials to make 5 more kits ... after that ... no more. I can't get the butterfly connectors anymore :( . So there are only 5 ... they sell for $10 and that includes all the materials as well as instructions (this time ... I forgot them last time ... sorry !!)
PAPER :
I am working on getting Heidi Swapp's new products out for next week as well using them in some samples and projects. She has some great new stuff ... papers, folders, trims, resist papers, .... and more.
AND I have plenty of kits in the making as well as a new video ... all hopefully next week.
In the meantime, there are lots of great new stamps, new graduation papers, more "man papers", fun Dad stickers and Grad stickers, a few pkgs of the Tim Holtz Seasonal Distress inks left, some grad kits, and the prepared materials for Washi tape. I also bagged up more of the white seam binding for dying - it sold out really quickly last week !! I only have a bit more so i wouldn't wait too long if you are wanting some.
And, as a final tidbit ... I have taught many people to do needlework as well as a few other things. But I do have a favourite student and I thought I would share ...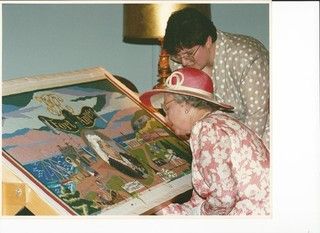 That's my wonderful Diamond Jubilee memory !! I have more pictures at the store if you too are a monarchy fan.
Take care, drop in, and get some fun stuff so you can CREATE !!!