Hi everyone !
A lovely week and some lovely stuff to share ! Let's go !!
PAPER
:
* "
Spring Fling
" from Teresa Collins ... such pretty paper ! Lovely pinks, cranberry, greens ... so cheerful ! Buy the paper & receive a free print out for a card using the paper. I used this paper & the print outs for this week's kit ... get all the supplies you need to make 2 of the free projects featured on
www.teresacollinsdesigns.com
. I have the sheets printed off for you as well.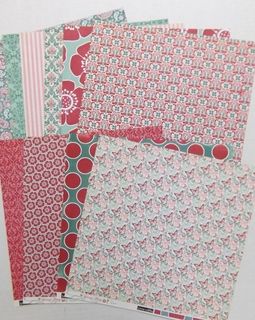 * did you check out the paper last week ? I put out more than 80 new papers ... some of them have already sold out !! Don't miss out !
* more 8.5x11 cardstock
* several orders arriving for next week .... (yay)
BEADS
:
* semi-precious trays are FULL !! New ones, old favourites, and just plain refilled !
* lots of new strands.
* some fun new kits !
* an order arriving for next week ... a big one !!
KITS
:
Card Kit
:
This week's kit isn't my design ... it's from the free projects on the Teresa Collins website. I just gathered up the materials you will need, precut them, and bagged them up. You will get everything you need for 2 big cards in the kit for $5. (
limited number
)
Earring Kit
:
The kit this week features gorgeous Fire Agate. This is a lovely warm stone ... makes a classic pair of earrings. All the materials + picture for $2.75. (this is the last of my fire agate beads in that size so there is a limited number of kits)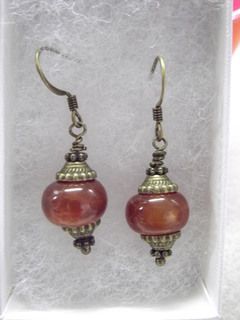 Bracelet Kit
:
This is a bracelet that I made using the same beads that I had in the Patina necklace from a few weeks ago. For some reason, it seems very Russian to me ... ? .... I love the purples & olive greens. Strong. Anyway, I have kits for the bracelet that include everything you need ( beads, wire, crimps & covers, clasps...) as well as a colour photo to work from ... $9.50.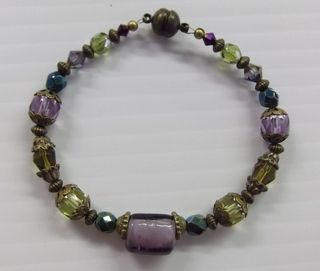 And I have 2 memory wire bracelet kits that I am working on ... you'll see them next week !!
In the meantime, try some of the fun products I have in stock, try something new or do something that you have always loved doing ... just create !!