Hi everyone !
I have put out so much new stuff, I had to keep putting up posts so this one wouldn't be 7 miles long !! So there are actually 2 posts prior to this one with more photos of new papers & products. Check them out - I'm sure you'll see something you would like !
So let's get started ...
PAPER
: I put out 80 new papers so far ... LOTS of new designs !! Some of them have been featured in the last 2 posts from Monday but here are a few more ...
* "For the Record" ... this is quite interesting ... for the genealogy folks out there or just those who would like to a family tree or family album ... you buy 2 of the same sheet, flip one over & you have family tree chart. There are 5 or 6 ( can't remember ...) different charts. very nice !! They also have some nice vintage florals to go with these papers as well as some beautiful book paper for those who would like to do a reading journal perhaps ...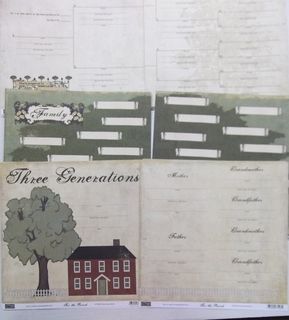 * Graphic 45 - A Ladies Diary ... very elegant & romantic. I also have the 8x8 pads. Stamps are still to come.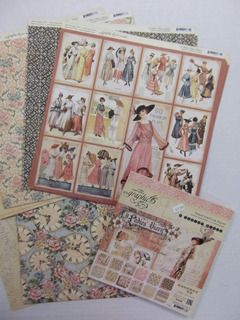 * Graphic 45 "Happy Haunting" .... you know I love this one :) ! Many many papers in this series as well as stickers, 8x8 pads, chipboard tags, and (still to come) stamps. The paper is fantastic ... old retro style Hallowe'en with Victorian style little girls and happy pumpkins. Wonderful !! The reverse sides have great small patterns. Even if you don't like Hallowe'en (really ??!) , there are some nice prints of sunflowers as well as a gorgeous starry sky paper.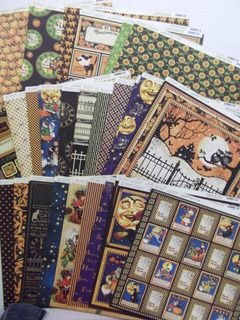 * Simple Stories ... Documented, Fabulous, and Awesome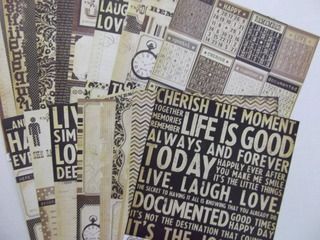 * the Peacock & leaver stamps are back in stock ... only $3.49.
* 8.5x11 cardstock ... Bazzill Card Shoppe ... this is excellent paper for cards - super thick !!
* more Distress Ink
* cute teeny stamps from Imaginisce ... see earlier post for pictures. Only $1.25 each.
* We R Memory Keepers washi tape - so fun !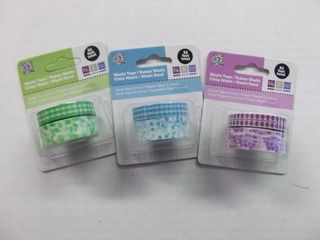 * restocked with the Tim Holtz Diamond Plate & Riveted Metal Texture Folders
* Do you know these scissors ? They are Fiskars and are fabulous ! I love them for fussy cutting and ribbon . Because I buy them bulk without packaging they are only $2.99 a pair !!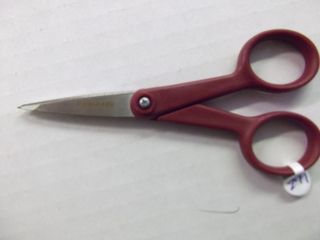 * We R Memory Keepers DOODLE STAMPERS ... I ♥ these !! You may have seen the Sew Stampers that punched the holes and then you added stitching. I liked the idea but ... didn't want to do the sewing ! These ones stamp with ink !! You simply buy the tool (that comes with a double dashed line head) and then roll it along your paper ! You can buy other heads ($4.75 each) and each one will do over 1000 impressions. I tried several and really really like them !! I have quite a few different ones to choose from. Fun and easy way to add doodling to your cards or pages. great for collage work too !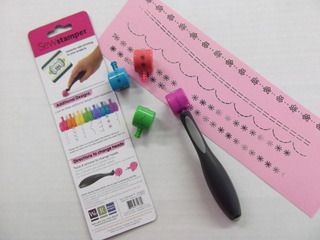 * Vintage seam binding in packages of assorted colours ...6 colours , 1 yard each for $4.50.
* Pooh Bear paper, stickers, die cuts ... see previous posts for photo.
* "Hello Cupcake" from Imaginisce - stamps, paper, 6x6 pads, diecuts.
* Dad paper from Echo Park.
* Spellbinders Cut, Fold, Tuck dies.
* Tim Holtz faucet knobs, wire pins, word bands (♥), and cash keys. In packages and by the each !!
* Crafters 6x6 templates.
* Amy Tan ribbon ... 75 cents per spool.
* Basically Bare albums.
* Brushes, pallet knives, etc ... to use with glue& seal or podge, resins, etc.
BEADS
:
* more Vintaj/Sizzix DecoEmboss folders : steampunk parts, fern fronds, butterfly swirls
* restocked (and added more) Vintaj Patinas from Ranger. Love the colours !!
* brushes for Resin work.
* I have many more strands of beads ... I will be unpacking them this afternoon.
KITS
:
Card Kit of the Week
:
This week's card kit is nostalgic in style. The cards could be used for many occasions - birthday, thank you, thinking of you ... almost anything. Get the supplies, all ready to assemble, for all three cards for $5.
Jewelry Kit
: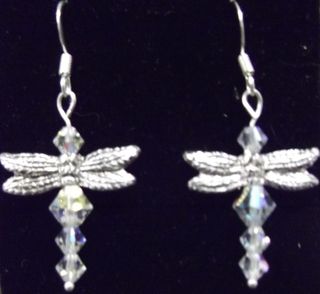 Dragonflies ... ( I just remembered that last week's was too ... sorry ! But these are different !!) These dragonflies are made of sparkly Swarovski crystals ... perfect for reflecting & refracting that lovely summer sun !! Get the materials and a photo for $3.
Anyway, that's about it right now ! I am off to unpack some more ...
Drop in !! Get creative !